The Toad (Disgusting Critters) (Paperback)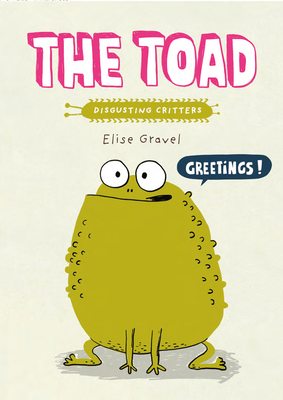 $6.99
Email or call for price.
Description
---
She's good for the environment... and she's disgusting!

Distinctive trait: Warts
Food preference: Bugs and worms
Special talent: Eating her own skin

Disgusting? Yes, but fun, too!

The Toad is the next installment of the Disgusting Critter series. Hilarious illustrated non-fiction about toads perfect for beginning readers. Although silly and off-the-wall, The Toad contains factual information that will both amuse and teach at the same time.
About the Author
---
ELISE GRAVEL is an award-winning author/illustrator from Quebec. She has won a Governor General's Award for Children's Illustration in French, and is well-known for her original, wacky picture books and graphic novels. After completing her studies in graphic design, Elise found herself quickly swept up into the glamorous world of illustration. Her old design habits drive her to work a little text here and there into her drawings and she loves to handle the design of her assignments from start to finish. She is inspired by social causes and likes projects that can handle a good dose of eccentricity. The author lives in Montreal, Quebec.
Praise For…
---
"Having surveyed worms, spiders, flies, and head lice, Gravel continues her Disgusting Critters series with a quick hop through toad fact and fancy .... A light dose of natural history, with occasional "EWWW!" for flavor." - Kirkus Reviews


"Gravel uses her obvious passion for seemingly unlovable creatures to excite the curiosity of young readers .... What sets this book apart from other early readers is the engaging humor. Gravel's cartoonish illustrations will keep children involved with the material and the important environmental message." - School Library Journal


"One of the highlights of the book is the toad eating her skin with a bottle of ketchup and a giant "Ewww!" speech bubble. I have a five-year-old in my house who, after reading this book, went around quoting this page for the rest of the day." - CM Magazine


"Using a cartoon framework, Gravel rattles off fast facts accompanied by wisecracking amphibians, giving spreads the feel of a gag strip .... Young readers will squeal and squirm .... Kids will readily respond to Gravel's hilarious illustrations, simple sentences, and dynamic fonts, as well as her call to help toads by keeping the planet clean." - Booklist