Queen's Own Fool (Paperback)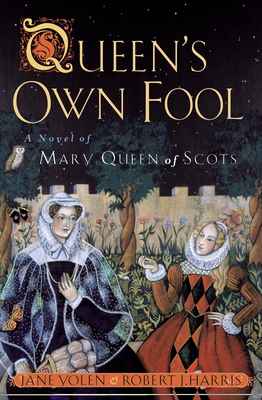 $12.99
Email or call for price.
Description
---
Fans of historical sagas and the CW show Reign will be swept up by this clever tale by Jane Yolen and Robert Harris 

Once she was a traveling player . . . Now called La Jardinière, a resourceful and clever jester to the queen's court, Nicola was a most unlikely person to end up "fool" and friend to Mary, Queen of Scots. But Nicola isn't an ordinary comedian tumbling and clowning before the court; her quick wit and sharp tongue are rare amongst the fawning nobles. As fate takes Mary from France to Scotland, and into confrontations with rebellious lords and devious advisors, Nicola remains deep in the queen's inner circle. But when the Scots start to turn on Queen Mary, Nicola struggles to find something—anything—that she, just a fool, can do to save her friend.


"Based deeply in fact and full of detail both luscious and sordid. . . . [Yolen and Harris] spin a historical tale of great immediacy and impact."—Kirkus Reviews

"This rich and involving novel of Mary Queen of Scots and her court will have readers clamoring to know more about this dramatic period in French and Scottish history. Readers are treated to a fascinating look at royal politics."—School Library Journal 
About the Author
---
Jane Yolen (janeyolen.com) needs no introduction! She has been called the "Hans Christian Andersen of children's literature" (Time) and has won countless awards for her wide-ranging body of work—picture books, poetry, nonfiction, middle-grade fiction, YA novels, and novels and poetry for adults. She was also the editor of her own imprints at Harcourt (Jane Yolen Books and the reprint line Magic Carpet Books), where she published best-selling authors Patricia C. Wrede, Bruce Coville, and Anne McCaffrey, among many others.


Robert Harris (robert-harris.com) is the author of nine bestselling novels: Fatherland, Enigma, Archangel, Pompeii, Imperium, The Ghost Writer, Conspirata, The Fear Index,and An Officer and a Spy. Several of his books have been adapted to film, most recently The Ghost Writer, directed by Roman Polanski. His work has been translated into thirty-seven languages. He lives in the village of Kintbury, England, with his wife, Gill Hornby.
Praise For…
---
Praise for Queen's Own Fool

"Based deeply in fact and full of detail both luscious and sordid. . . . [Yolen and Harris] spin a historical tale of great immediacy and impact."—Kirkus Reviews

"The reign of Mary Queen of Scots comes alive with distinctively drawn characters . . . The authors immerse the reader in the time period with a powerful tale. This is top-notch historical fiction."—Children's Literature 

"The authors seamlessly weave fiction and fact together to tell Mary's sad story . . . will surely appeal to fans of historical fiction."—VOYA

"This rich and involving novel of Mary Queen of Scots and her court will have readers clamoring to know more about this dramatic period in French and Scottish history. Readers are treated to a fascinating look at royal politics."—School Library Journal