Mine, All Mine!: A Book About Pronouns (Explore!) (Paperback)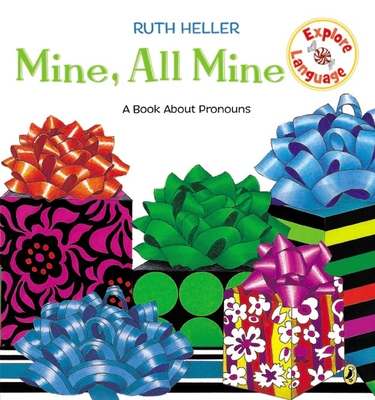 Email or call for price.
Not Available at This Time
Description
---
Perfect for introductory grammar and language arts lessons!
 
What is a pronoun? How do you use it? Do you say, "These candies are for him and me"—or "he and I?"
 
Explore language and discover how to use pronouns and their many forms from personal to reflexive to demonstrative.
 
Praise for Mine, All Mine!:

"Once again, Heller has taken a part of speech and made its function perfectly and entertainingly clear. ... From cover to cover, the stylishly drawn, brilliantly colored, double-paged illustrations grab readers and don't let go. ... Who would have thought pronouns could be such fun?"—School Library Journal

"Bold, handsome illustrations accompanied by a jaunty, rhymed text demonstrate their importance ... with all the panache of a Madison Avenue publicity campaign. ... Language teachers, rejoice!"—The Horn Book

About the Explore! series:
 
Dedicated to helping children learn a variety of nonfiction subjects, the Explore series uses pitch-perfect rhyming text and brilliantly illustrated images to make learning fun.

Books in the series:

Explore Language
1. Behind the Mask: A Book About Prepositions
2. Cache of Jewels: And Other Collective Nouns
3. Fantastic! Wow! and Unreal!: A Book About Interjections and Conjunctions
4. Kites Sail High: A Book About Verbs
5. Many Luscious Lollipops: A Book About Adjectives
6. Mine, All Mine!: A Book About Pronouns
7. Merry-Go-Round: A Book About Nouns
8. Up, Up and Away: A Book About Adverbs
 
Explore Nature
1. Animals Born Alive and Well: A Book About Mammals and Their Young
2. Chickens Aren't the Only Ones: A Book About Animals Who Lay Eggs
3. The Reason for a Flower: A Book About Flowers, Pollen, and Seeds
4. Plants that Never Ever Bloom: A Book About Fungi, Ferns, and Other Plants Without Flowers
About the Author
---
After receiving a fine arts degree from the University of California at Berkeley and completing two years of graduate work in design at the California College of Arts and Crafts in Oakland, Ruth Heller (1923-2004) began her career designing wrapping paper, cocktail napkins, greeting cards, and coloring books. After five years of rejection and one complete revision, Heller's first book, Chickens Aren't the Only Ones, about egg-laying animals, was published in 1981. It was so successful that the sequel, and second book to be published, Animals Born Alive And Well (1982), about mammals, quickly followed. In 1983 and 1984, her third and fourth titles, The Reason For A Flower (about plants that have seeds and flowers) and Plants That Never Ever Bloom (about plants that do not) were published.

She then began work on a collection of six books, the How To Hide series on camouflage and the magic of this phenomenon in nature, which covered the entire animal kingdom -- insects, birds, mammals, amphibians, reptiles, and sea creatures. The next collection of books became a five-volume series on parts of speech: A Cache of Jewels and Other Collective Nouns; Kites Sail High: A Book About Verbs; Many Luscious Lollipops: A Book About Adjectives; Merry-Go-Round: A Book About Nouns; and Up, Up and Away: A Book About Adverbs. She also wrote and illustrated the unique and fascinating book Color, a charming and instructive guide to how art goes through the four color printing process.

Among the notable people who have had an influence on Heller's writing have been: Ogden Nash, Gilbert and Sullivan, Edward Lear, Hilaire Belloc, and Dr. Seuss. Heller says of her work, "All my books are nonfiction picture books in rhyme. I find writing in rhyme enjoyable and challenging, and I think it is an easy way for children to learn new facts and acquire a sophisticated vocabulary. Children are not intimidated by big words. I try to make my writing succinct and allow the illustrations to convey as much information as possible."
Praise For…
---
"Once again, Heller has taken a part of speech and made its function perfectly and entertainingly clear. ... From cover to cover, the stylishly drawn, brilliantly colored, double-paged illustrations grab readers and don't let go. ... Who would have thought pronouns could be such fun?"
—School Library Journal

"Bold, handsome illustrations accompanied by a jaunty, rhymed text demonstrate their importance ... with all the panache of a Madison Avenue publicity campaign. ... Language teachers, rejoice!"
—The Horn Book