Freedom Bird: A Tale of Hope and Courage (Hardcover)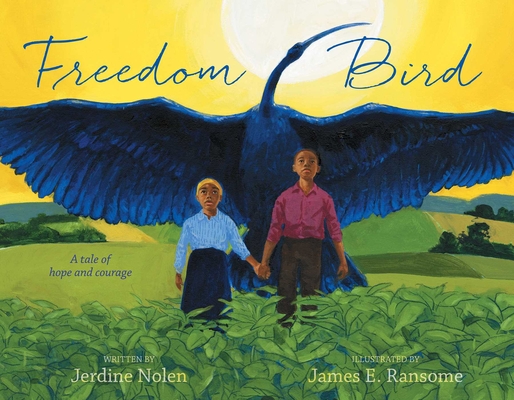 $18.99
Email or call for price.
Description
---
"Powerful storytelling and immersive art." —Kirkus Reviews (starred review)
"Vibrant writing and magical realism lift this story to one of triumph." —Publishers Weekly
"Nolen's lively prose style recalls the richness of the oral tradition in this tale of triumphant courage and abiding hope." —The Horn Book
"A moving choice for children's collections." —Booklist

A Parents' Choice Silver Award Recipient

In this inspiring story in the tradition of American black folktales, an enslaved brother and sister are inspired by a majestic and mysterious bird to escape to freedom in this dramatic and unforgettable picture book.

There was nothing civil about that war. They should have called it what it was: a big, bad war.

Brother and sister Millicent and John are slaves on Simon Plenty's plantation and have suffered one hurt and heartbreak after another. Their parents had told them old tales of how their ancestors had flown away to freedom just as free and easy as a bird. Millicent and John hold these stories in their hearts long after their parents are gone. "Maybe such a time will come for you," their parents said. Then one day a mysterious bird appears in their lives. The bird transforms them and gives them the courage to set their plan into motion and escape to freedom.
About the Author
---
Jerdine Nolen is the beloved author of many award-winning books, including Big Jabe; Thunder Rose, a Coretta Scott King Illustrator Honor Book; and Hewitt Anderson's Great Big Life, a Bank Street Best Book of the Year, all illustrated by Kadir Nelson. She is also the author of Eliza's Freedom Road, illustrated by Shadra Strickland, which was an ALA/YALSA Best Fiction Nominee for Young Adults; Raising Dragons, illustrated by Elise Primavera, which received the Christopher Award; and Harvey Potter's Balloon Farm, illustrated by Mark Buehner, which was made into a movie by the same name. Her other books include Calico Girl, a Kirkus Reviews Best Book of the Year, and Irene's Wish, illustrated by A.G. Ford, which Kirkus Reviews called "delightful and memorable" in a starred review. Ms. Nolen is an educator and lives in Ellicott City, Maryland.

James E. Ransome's highly acclaimed illustrations for Before She Was Harriet received the 2018 Coretta Scott King Illustrator Honor. His other award-winning titles include the Coretta Scott King winner The Creation; Coretta Scott King Honor Book Uncle Jed's Barbershop; Sweet Clara and the Freedom Quilt; and Let My People Go, winner of the NAACP Image Award. James is also a recipient of the ALA Children's Literature Legacy Award. He frequently collaborates with his wife, author Lesa Cline-Ransome, and their books include Game Changers: The Story of Venus and Serena Williams and Fighting with Love: The Legacy of John Lewis. James is a professor and coordinator of the MFA Illustration Graduate Program at Syracuse University. He lives in New York's Hudson River Valley region with his family. Visit James at JamesRansome.com.
Praise For…
---
The intimate, compelling voice that Nolen (Calico Girl) creates for this story about two enslaved children begins matter-of-factly—"Now you know even before I tell you there was nothing civil about that war"—and stays strong throughout. Heartbreak strikes John and Millicent early as their parents, Samuel and Maggie, are sold—but not before they have planted in their children the vision of freedom, which they tie to images of birds in flight: "Because there is beauty and music in the flight of birds—listen for the song. It is a song for the soul." Ransome (The Bell Rang) paints the children toiling in vast tobacco fields during the day. An overseer knocks a majestic black bird out of the sky with his whip, the children retrieve it under a full moon, and though John is taken to another plantation for months, Millicent is able to watch it heal: "Its feathers, black as jet, seemed to glow like burning coals." When John returns, fate and the bird give the children a chance at freedom, an escape to the "wide-open spaces of the West" that takes on legendary dimensions. Vibrant writing and magical realism lift this story to one of triumph. Ages 5–9. (Jan.)
— Publishers Weekly

Nolen presents an original story about flight and freedom—the former an enduring motif, the latter a recurrent theme, in African American folklore. Millicent and John worked alongside their parents and other enslaved people on Simon Plenty's plantation. Before their parents had been sold away, "back in the long-ago days," they told the children about how "our people could fly away to freedom as free and easy as any bird," a dream John and Millicent carry with them during the long hours of labor in the fields. One day, a majestic bird circling above catches the attention of the overseer, who rips it from flight with a swift snap of his whip. That night, worrying about the bird and forbidden to care for it, the children nevertheless race through the darkness to save it and begin nursing it back to health. The next day brings the news that John has been hired away, leaving Millicent along, for months, to care for the bird. While John is absent, the bird and Millicent develop a special bond that strengthens her resolve for flight: "It felt to Millient that she had grown her own wings and she could indeed fly." When John returns and the children learn that he is soon to be sold to another plantation, they decide to escape, following the bird westward toward freedom. Nolen's lively prose style recalls the richness of the oral tradition in this tale of triumphant courage and abiding hope. Ransome's acrylic paintings masterfully capture the mood of the story through dramatic images: the children running, the bird in flight. -- The Horn Book
— Horn Book Magazine

Set not long before the Civil War, Nolen's latest picture book portrays the inhumane subjugation of the enslaved Wheeler family, particularly the young brother and sister, John and Millicent, in an ageappropriate way while also illustrating their heart-felt desire for emancipation. After their parents are sold from their plantation, the children are forced to do the work of adults from sunup to sundown while holding on to the "seeds of freedom" planted in their hearts and minds. The poignant imagery of slaves flying away like birds to make themselves free resonates with Millicent and John even more deeply once they rescue a large crane that was injured by the overseer of the farm. After learning of John's impending sale to a plantation further south, the children decide to "make themselves free" and follow the bird west to deliverance as a mysterious storm keeps their pursuers at bay. Ransome's saturated, realistic paintings highlight the siblings' fear and determination, humanizing their suffering while underscoring the bravery it took to seek liberty. A moving choice for children's collections. -- Booklist
— Booklist