Virtual Unrealities: The Short Fiction of Alfred Bester (Paperback)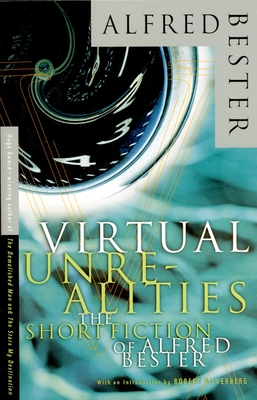 $16.95
Email or call for price.
Description
---
"Dazzlement and enchantment are Bester's methods. His stories never stand still a moment."
—Damon Knight, author of Why Do Birds

Alfred Bester took science fiction into hyperdrive, endowing it with a wit, speed, and narrative inventiveness that have inspired two generations of writers. And nowhere is Bester funnier, speedier, or more audacious than in these seventeen short stories—two of them previously unpublished—that have now been brought together in a single volume for the first time.

Read about the sweet-natured young man whose phenomenal good luck turns out to be disastrous for the rest of humanity. Find out why tourists are flocking to a hellish little town in a post-nuclear Kansas. Meet a warlock who practices on Park Avenue and whose potions comply with the Pure Food and Drug Act. Make a deal with the Devil—but not without calling your agent. Dazzling, effervescent, sexy, and sardonic, Virtual Unrealities is a historic collection from one of science fiction's true pathbreakers.

"Alfred Bester was one of the handful of writers who invented modern science fiction. "
—Harry Harrison
About the Author
---
Alfred Bester was a beloved sci-fi author, writer, magazine editor, and scripter for newspaper strips and comic books. The Demolished Man, his best remembered title, won the inaugural Hugo Award in 1953. He is also the author of Psychoshop, Tender Loving Rage, The Deceivers, and many more pieces of long and short fiction. Bester is considered to be one of the most influential sci-fi writers of the 20th Century. 

Roger Zelazny burst onto the SF scene in the early 1960s with a series of dazzling and groundbreaking short stories. He won his first of six Hugo Awards for Lord of Light, and soon after produced the first book of his enormously popular Amber series, Nine Princes in Amber. In addition to his Hugos, he went on to win three Nebula Awards over the course of a long and distinguished career. He died on June 14, 1995.