The Tomb Robber and King Tut (Hardcover)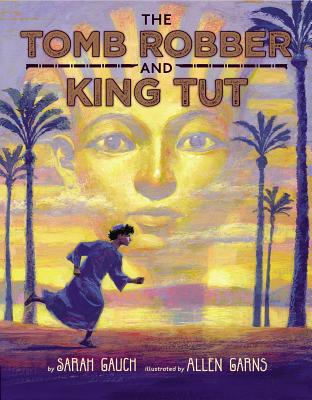 Email or call for price.
Not Available at This Time
Description
---
For years Mr. Howard has come to the valley near my village where the great pharaohs, the kings of Egypt, are buried in underground tombs. And for months I've pleaded with Baba, my father, to let me work with Mr. Howard, as he searches for a certain king's tomb--King Tut's tomb. Young Hassan wants nothing more than to help with the search. But Hassan's father is concerned. Their family is descended from 'tomb robbers'. Despite being honest farmers now, they're not fully trusted. Hassan could get into serious trouble. But Hassan is determined. Soon, he is working long, hard days filling baskets with sand, and baring the brunt of others who are suspicious of him. Just when Hassan is most discouraged, he spots something glittering where he's been working. And no one else has seen it yet. What should he do? The Tomb Robber and King Tut is an exciting imagining of the actual discovery of the boy king's tomb in the 1920s. Gorgeously illustrated by Allen Garns, this book is for anyone intrigued by Egyptian history and the beginnings of King Tut's incredible fame.
About the Author
---
Sarah Gauch grew up in the United States, obtained a degree in journalism from Northwestern University, and moved to Cairo over two decades ago. Fluent in Arabic, she wrote for numerous news organizations before becoming a full-time writer of fiction. She and her family live in Cairo and on an olive farm in the Sahara Desert.