Real Time (Hardcover)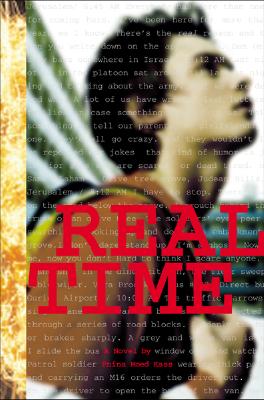 $15.00
Email or call for price.
Description
---
Sixteen-year-old Thomas Wanninger is on a mission: to find out what his grandfather, a Nazi officer, did during World War II. Thomas is going to Israel to work on a kibbutz, where he will have access to a Jerusalem archive that may hold the information he seeks. His life is one of many to be affected by a terrorist attack that occurs at 11:47 A.M. on the day he arrives. Kibbutz members, a doctor, "the boss" of a diner, two Palestinian teenagers and their families, a bus driver, policemen, a news correspondent, an Israeli soldier, a Holocaust survivor . . . these and others add their voices to the minute-by-minute account of a catastrophic incident that changes everything, while at the same time renewing a deadly cycle of sacrifice and destruction.
Pnina Kass, who lives in Israel, delivers an even-handed and powerful portrayal of the complex world her characters inhabit. Chilling, suspenseful, and frighteningly real, this novel could be the back story behind tomorrow's news.
Praise For…
---
"tense and heartbreaking...a complex kaleidoscope of perspectives...taut, immediate story...riveting...real-world terrorism...Kass is spot-on." KIRKUS REVIEWS Kirkus Reviews

"exhausting but illuminating...characters are deeply developed and painfully sympathetic as they find that they are inextricably and unexpectedly connected." SLJ School Library Journal

"Timely novel explores the effects of a terrorist act from multiple points of view" PW Publishers Weekly

"shows how drastically lives can change from moment to the next...make(s) a strong impression" HORN BOOK Horn Book

"Good reading for thoughtful teens." VOYA VOYA (Voice of Youth Advocates)

"Tense, terrifying...stories draw readers in...unforgettable is the grief and the chaos of the bombing and its aftermath." BOOKLIST Booklist, ALA