Nathan Hale's Hazardous Tales: One Dead Spy (Prebound)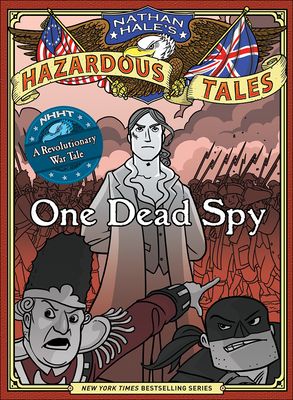 $28.60
Email or call for price.
Description
---
New York Times Bestseller
Nathan Hale, the author's historical namesake, was America's first spy, a Revolutionary War hero who famously said "I regret that I have but one life to give for my country" before being hanged by the British. In the Nathan Hale's Hazardous Tales series, author Nathan Hale channels his namesake to present history's roughest, toughest, and craziest stories in the graphic novel format.
One Dead Spy tackles the story of Hale himself, who was an officer and spy for the American rebels during the Revolutionary War. Author Hale highlights the unusual, gruesome, and just plain unbelievable truth of historical Nathan Hale--from his early unlucky days at Yale to his later unlucky days as an officer--and America during the Revolutionary War.
Praise for Nathan Hale's Hazardous Tales: One Dead Spy
"An innovative approach to history that will have young people reading with pleasure."
--Kirkus Reviews
"Readers interested in American history will enjoy these graphic novels... Comic panels of varying sizes enhance the real-life events and support the stories' over-the-top humor... the writing is accessible and entertaining; author Hale's style gives readers an insider-y, you-are-there-type scoop."
--Horn Book
About the Author
---
Nathan Hale is the illustrator of the graphic novel Rapunzel's Revenge, which was an Al Roker Book Club for Kids selection, an ALA Notable Book, and a YALSA Great Graphic Novel for Teens and earned three starred reviews. He is also the illustrator of several picture books. He lives in Provo, Utah, with his wife and their two children.