The Night Before Freedom: A Juneteenth Story (Hardcover)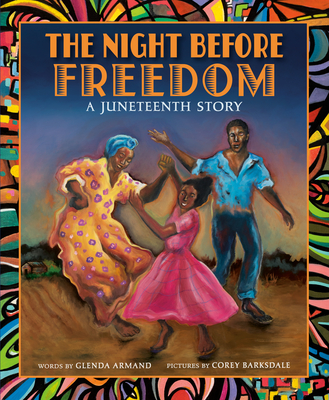 Description
---
This moving picture book tells the story of Juneteenth with all the care and reverence such a holiday deserves. The rhyming text and stunning illustrations will teach children about this historic day in history.

'Twas the night before freedom, and all through the South,
long-whispered rumors had, spread word of mouth.
"It's coming! It's coming!" I heard people say.
"Emancipation is coming our way."

Eight-year-old David and his family gather at Grandma's house in Galveston, Texas, for a cherished family tradition: Grandma's annual retelling of the story of Juneteenth, the holiday that commemorates the end of slavery in the United States.

The signing of the Emancipation Proclamation by President Abraham Lincoln meant that all enslaved persons within the rebellious states would be free as of January 1, 1863. However, people in Texas did not receive the news of their emancipation until two and a half years later—on June 19, 1865.

Grandma tells the story of anticipation, emancipation, and jubilation just as it was told to her many years before by her own grandmother, Mom Bess. As a six-year-old, Bess had experienced the very first Juneteenth. Before that day, she could only imagine what liberty would look like. But once freedom arrived, would it live up to a little girl's dreams?

The story is written in the same meter as Clement C. Moore's The Night Before Christmas, making it a perfect book for parents and kids to read together.
About the Author
---
Glenda Armand has had a long career as a teacher and school librarian and enjoys writing picture-book biographies that inspire children to dream big. Glenda is the author of the award-winning Ira's Shakespeare Dream, Love Twelve Miles Long, and Song in a Rainstorm: The Story of Musical Prodigy Thomas "Blind Tom" Wiggins, as well as Black-Eyed Peas and Hoghead Cheese: A Story of Food, Family, and Freedom and Ice Cream Man: How Augustus Jackson Made a Sweet Treat Better. When not writing or practicing the piano, Glenda tends a garden full of succulents and roses. She lives in Los Angeles.

Corey Barksdale was born in Nashville to a family of artists. He moved to Atlanta to earn his bachelor of fine arts degree at the Atlanta College of Art and lives and works there today. He is known for his brightly colored murals and paintings that are done in an abstract expressionism style. In recent years, Barksdale has focused his paintings on images that show the love and strength that exist in the African American community. He is making his picture-book debut with The Night Before Freedom.
Praise For…
---
"A jubilant combination of verse and illustration that captures this momentous historical event." —Kirkus Reviews

"Armand's use of rhyme and rhythm throughout the book is reminiscent of nursery rhymes....Colors are bright, warm, lively, flowy, soft, and blended." —School Library Journal

"A sense of joy and movement pervades every spread." —Booklist

"Historically insightful." —Publishers Weekly

"With beautiful pictures and text written in the same meter as the classic The Night Before Christmas, families will love reading and learning about this important day in Black history together." —The Root