Sign Here (Hardcover)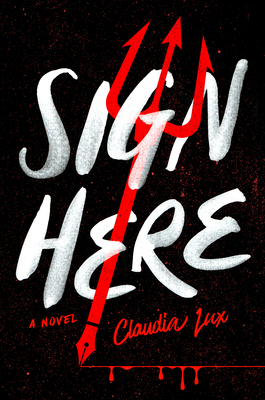 $27.00

In Our Warehouse - Expected arrival in 2-5 days
Description
---
A darkly humorous, surprisingly poignant, and utterly gripping debut novel about a guy who works in Hell (literally) and is on the cusp of a big promotion if only he can get one more member of the wealthy Harrison family to sell their soul.

Peyote Trip has a pretty good gig in the deals department on the fifth floor of Hell. Sure, none of the pens work, the coffee machine has been out of order for a century, and the only drink on offer is Jägermeister, but Pey has a plan—and all he needs is one last member of the Harrison family to sell their soul.
 
When the Harrisons retreat to the family lake house for the summer, with their daughter Mickey's precocious new friend, Ruth, in tow, the opportunity Pey has waited a millennium for might finally be in his grasp. And with the help of his charismatic coworker Calamity, he sets a plan in motion.
 
But things aren't always as they seem, on Earth or in Hell. And as old secrets and new dangers scrape away at the Harrisons' shiny surface, revealing the darkness beneath, everyone must face the consequences of their choices.
About the Author
---
Claudia Lux is a graduate of Sarah Lawrence College, and has a master's in social work from the University of Texas at Austin. She lives and works in Boston, Massachusetts. Sign Here is her first novel.
Praise For…
---
"Twisted, witty, terrifying and ultimately completely heartbreaking. Frankly... Hell would be proud."
—Phoebe Waller-Bridge

"Darkly comic."
—The New York Times

"Devilish comedy is afoot."
—USA Today

"A delightful ride."
—The Washington Post

"Darkly funny, spine-tingling, and suspenseful, fans of Dead Like Me and The Good Place will love."
—Fodor's

"Looking for a fun Halloween-y book that feels like a mash-up between The Good Place, Succession, and The Office?"
—CrimeReads

"Fans of The Good Place will love Claudia Lux's darkly funny debut."
—Betches

"The most dark, twisted fun I've had with a book for ages."
—C.J. Tudor, bestselling author of The Burning Girls

"A mind-bending, riveting debut...Part thriller, part family drama, with a dash of horror thrown in, and it works beautifully. Engaging characters (even in Hell!), impeccable plotting, and plenty of twists will keep you reading all night."
—Samantha Downing, USA Today bestselling author of For Your Own Good

"There might not be a consensus on what constitutes hell, but the time I spent reading Sign Here was certainly a glimpse of heaven." 
—Fredericksburg Free-Lance Star

"Lux brilliantly combines satire, suspense, and pathos in her remarkably assured debut…Lux balances the whodunit plot and her antihero's quest perfectly as the action builds to a surprisingly moving place. Readers of paranormal crime series such as Jim Butcher's Dresden Files will be eager to see what Lux has up her sleeve next."
—Publishers Weekly, (starred review)

"[J]ust like on Earth, nothing in this hilarious and surprisingly sweet journey through Hell goes as planned."
—Good Housekeeping

"[E]ntertaining, sneakily poignant debut thriller." 
—BookPage

"A clever premise executed with flair, Sign Here is an electrifying page-turner that balances the thrilling and grim with an astute exploration of morality, family ties, and the burden of secrets. A striking debut."
—Rachel Harrison, author of The Return

"Claudia Lux's witty debut takes readers straight to hell to navigate the consequences of immortal deals with the devil…But secrets of the past come back to bite, and everyone will feel the burn in Lux's cutting satirical mystery."
—PopSugar

"Lux's take is fresh and complex, with deep character development and a plot that will keep readers guessing."
—Booklist

"[A] darkly funny, deeply considered novel that kept me up well into the night as I sped through to the ending."
—Gizmodo

"Ultimately, Sign Here compels the reader to think about what a wonder it is to be human, and to realize that the distinction between good and evil is not as clear as we expect it to be."
—Door County Pulse

"How can I prepare you for the thrilling ride that awaits you in Sign Here? If I told you this novel takes place in an office in hell and a summer house in New Hampshire? If I told you it was a complex family story of secrets and loss and a hilarious hijinks novel? Claudia Lux's brilliant debut is a genre-busting powerhouse. Whacky, clever, funny, gripping, this book is extraordinary—I couldn't put it down."
—Victoria Redel, author of Before Everything

"...[F]unny, sharp-witted..."
—Washington Blade