What Do We Know About the Loch Ness Monster? (What Do We Know About?) (Paperback)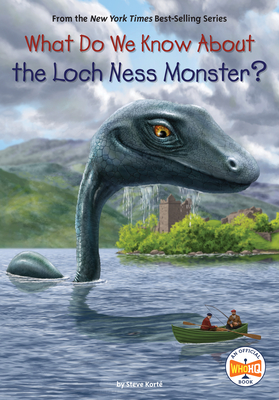 Description
---
The What Do We Know About? series explores the mysterious, the unknown, and the unexplained. Is the Loch Ness Monster really lurking beneath Scottish waters, or is it just a myth? Find out all that there is to know about the most famous aquatic cryptid!

From the #1 New York Times Best-Selling Who Was? series comes What Do We Know About?, a series that tells the stories of world-famous crytpids, mysteries, and more.

Also known as Nessie, this creature of the lake's history dates all the way back to the year 565. Since then, there have been photographs and films that allegedly show proof of the monster's existence. But are they fact or fiction? Learn all about the research, expeditions, and tests that provide clues about the Loch Ness Monster and whether or not it is real in this captivating book for young readers!
About the Author
---
Steve Korté is a former editor for DC Comics. He is now a freelance writer and has written books for DC Comics and Warner Bros. In the Who HQ series, he has also written What Do We Know About Bigfoot?, What Is the Story of Looney Tunes?, and What Is the Story of Wonder Woman? He lives in New York City.