The Beach Trap (Paperback)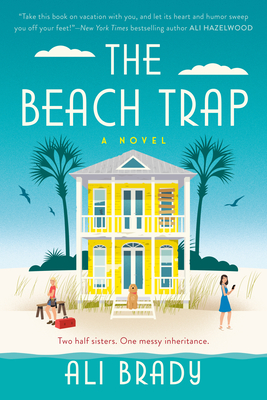 $17.00

In Our Warehouse - Expected arrival in 2-5 days
Description
---
Two best friends torn apart by a life-altering secret. One summer to set the record straight.
 
When twelve-year-olds Kat Steiner and Blake O'Neill meet at Camp Chickawah, they have an instant connection. But everything falls apart when they learn they're not just best friends—they're also half sisters. Confused and betrayed, the girls break off all contact.
 
Fifteen years later, when their father dies suddenly, Kat and Blake discover he's left them a joint inheritance: the family beach house in Destin, Florida. The two sisters are immediately at odds. Blake, who has recently been demoted from regular nanny to dog nanny, wants to sell the house, while social media influencer Kat is desperate to hold on to the place where she lived so many happy memories.
 
Kat and Blake reluctantly join forces to renovate the dilapidated house, with the understanding that Kat will try to buy Blake out at the end of the summer. The women clash as Blake's renovation plans conflict with Kat's creative vision; meanwhile, each sister finds herself drawn into a summer romance. As the weeks pass, the two women realize the most difficult project they face this summer will be coming to grips with their shared past—and learning how to become sisters.
About the Author
---
Ali Brady is the pen name of writing BFFs Alison Hammer and Bradeigh Godfrey. The Beach Trap is their first book together. Alison lives in Chicago and works as a VP creative director at an advertising agency. She's the author of You and Me and Us and Little Pieces of Me. Bradeigh lives with her family in Utah, where she works as a physician. She's the author of the psychological thriller, Imposter.
Praise For…
---
"An enchanting, heartwarming story about the families we're born into—and the families we choose for ourselves. The Beach Trap is full of beauty, and hope, and reminders that it's never too late to roll up our sleeves and rise above the mistakes we made. I cheered, I cried, I swooned while reading about Blake and Kat, and their journeys to finding love, to finding themselves, and to becoming the sisters they were always meant to be. Take this book on vacation with you, and let its heart and humor sweep you off your feet!"—Ali Hazelwood, New York Times bestselling author of The Love Hypothesis

"A unique and fun twist on the enemies-to-lovers trope, The Beach Trap features two half-sisters who hate each other, but are thrown together one fateful summer to save their family's beach house. It's The Parent Trap meets Flip or Flop (with not one, but two hot handy men). In other words—the ultimate vacation read."—Colleen Oakley, USA Today bestselling author of The Invisible Husband of Frick Island

"The Beach Trap is both a celebration of sisterhood and an unflinching examination of how where we come from shapes who we become. Ali Brady isn't afraid to let Kat and Blake muddle through their mess, be it the mistakes of their family or the literal mess of the beach house they've inherited, and gift readers with an uplifting tale that shows how, with a little elbow grease, the baggage of our past doesn't have to define us. With an HGTV-worthy plot, heaps of family drama, and a side of romance, The Beach Trap hits the nail on the head when it comes to the perfect summer read. Don't forget to pack this one in your beach bag!"—Sarah Grunder Ruiz, author of Love, Lists, and Fancy Ships

""From the deft manner in which the authors shift the narrative between their two protagonists to the dual romances that unfold with just the right dash of snarky wit and sexy sizzle, readers will find The Beach Trap to be an absolute delight."—Booklist

"There is a special place in my heart for media in which the real love story is about sisters finding each other (see: "Fleabag"), and that's what The Beach Trap delivers: the tale of two women who decide to put each other first. But in the process, they also find romance with two different—but equally swoony—guys."—Ali Hazelwood, New York Times bestselling author of The Love Hypothesis

"The writing duo of Ali Brady hit the ball out of the park with their debut—the story is just so well-done. The Beach Trap is a sweet and uplifting story that had me cheering for Kat and Blake to resolve their differences and come to terms with their family's sordid past. It will be the perfect book to take to the pool or the beach this summer."—Thoughts From a Page

"A juicy beach read!"—Motherly

"Ali Brady...hit the ball out of the park with their debut—the story is just so well-done. The writing is vivid, and I felt like I was transported to the beach or living in the beach house. The Beach Trap is a sweet and uplifting story that had me cheering for Kat and Blake to resolve their differences and come to terms with their family's sordid past. It will be the perfect book to take to the pool or the beach this summer."—The Buzz Magazines

"If you're a fool for HGTV and sibling rivalry novels, toss The Beach Trap into your bag."—The Augusta Chronicle