Is This Your Class Pet? (Hardcover)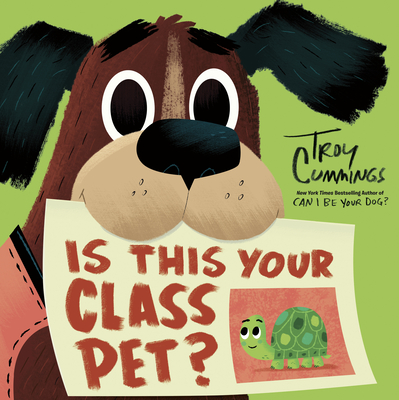 Description
---
An adorable letter writing dog helps a class pet on the loose get back to its classroom in this companion to the New York Times bestseller Can I Be Your Dog?, and I Found a Kitty!

Arfy is a reading buddy, visiting schools and helping kids who are learning to read. One day, upon arriving home, Arfy notices a stowaway in his vest pocket--a turtle! Arfy must write letters to each of the teachers--and even the principal!--to find the classroom whose terrarium is missing this little terrapin. Can Arfy get this little lady back to her rightful class?

Another winning, comical, epistolary tale from a New York Times bestselling author-illustrator that's perfect for children, teachers, and librarians.
About the Author
---
TROY CUMMINGS is the creator of the New York Times bestseller Can I Be Your Dog? and its companion picture book I Found A Kitty! He has written and illustrated a bunch of other books, including The Eensy Weensy Spider Freaks Out! (Big-Time!), Little Red Gliding Hood (written by Tara Lazar), Those Are Not My Underpants! (written by Melissa Martin), and the chapter book series The Notebook of Doom. He lives in Greencastle, Indiana with his messy kids and neat cats. Check out more of Troy's work at troycummings.net.



Praise For…
---
"Who wouldn't love a school helper or pet like Arfy?" —Kirkus Reviews