What Do We Know About Bigfoot? (What Do We Know About?) (Paperback)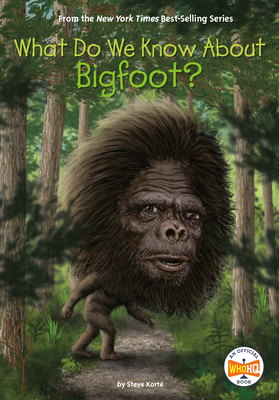 Description
---
The What Do We Know About? series explores the mysterious, the unknown, and the unexplained. Is the hairy cryptid of the forest fact, myth, or legend? Find out what we really know about Bigfoot in this exciting new series!

Presenting What Do We Know About: an exciting new addition to the #1 New York Times Best-Selling Who Was? series!

What Do We Know About Bigfoot? lets curious young readers explore what we actually know about the creature's mysterious history. Dive into the facts behind the most well-known footage of the cryptid, the Patterson-Gimlin film, and learn about actual scientific studies conducted to learn whether or not Bigfoot actually exists. Filled with accounts of over a century of potential sightings, this book will have every reader looking for footprints on their next hike. Bigfoot has been the star subject of movies, TV shows, books, and more... but is he really out there?

Look for more Who HQ titles:
Where Is Area 51?
What Do We Know About the Loch Ness Monster?
What Do We Know About Atlantis?
What Do We Know About Crop Circles?
About the Author
---
Steve Korté is a former editor for DC Comics. He is now a freelance writer and has written books for DC Comics and Warner Bros. In the Who HQ series, he has also written What Is the Story of Looney Tunes? and What Is the Story of Wonder Woman? He lives in New York City.