When the Moon Turns Blue: A Novel (Hardcover)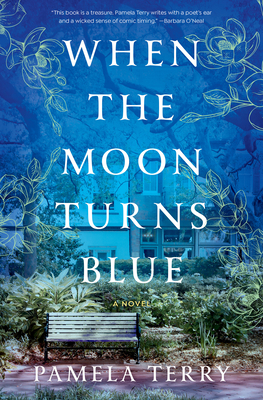 $28.99

In Our Warehouse - Expected arrival in 2-5 days
Description
---
One woman fights to hold on to her friends, her family, and all that she holds dear as a brewing conflict divides her small-town Georgia community in this powerful novel from the author of The Sweet Taste of Muscadines.

"This book is a treasure. Pamela Terry writes with a poet's ear and a wicked sense of comic timing."—Nationally bestselling author Barbara O'Neal

On the morning after Harry Cline's funeral, a rare ice storm hits the town of Wesleyan, Georgia. The community wakes up to find its controversial statue of Confederate general Henry Benning destroyed—and not by the weather. Half the town had wanted to remove the statue; the other half had wanted to preserve it. Now that the matter has been taken out of their hands, the town's long-simmering tensions are laid bare. 

Without Harry beside her, Marietta is left to question many of her preconceived ideas about her friends and family. Her childhood friend, Butter, has come to her aid in ways Marietta never expected or asked for. Her sister-in-law, Glinda, is behaving completely out of character, and her brother, Macon, the top defense attorney in the Southeast, is determined to find those responsible for the damage to the statue and protect the legacy of Old Man Griffin, the owner of the park where it once stood. Marietta longs to salvage these connections, but the world is changing and the divides can no longer be ignored.

With a cast of compassionate, relatable characters, When the Moon Turns Blue is a poignant and timely novel about family, friendship, and what can happen when we discover that we don't particularly like the people we love.
About the Author
---
A lifelong southerner, Pamela Terry learned the power of storytelling at a very early age. For the past decade, Terry has been the author of the internationally popular blog From the House of Edward, which was named one of the top ten home blogs of the year by The Telegraph. She lives in Smyrna, Georgia, with her songwriter husband, Pat, and their two dogs, Andrew and George. She travels to the Scottish Highlands as frequently as possible.
Praise For…
---
"A deeply moving work of Southern fiction that will appeal to fans of Where the Crawdads Sing . . . a story to remember long after the last page is turned."—Susan Wiggs, #1 New York Times bestselling author of The Lost and Found Bookshop

"I inhaled this book. Rarely has a story or an author impressed me more. Pamela Terry is destined to be a rising star in the literary world."—Debbie Macomber, #1 New York Times bestselling author of The Best Is Yet to Come

"About grief and the power of friendship through every season of life, When the Moon Turns Blue is wise, exquisitely written, and full of heart. This smart, quirky novel proves Pamela Terry is a Southern powerhouse. She should definitely be on your radar."—Sarah Addison Allen, New York Times bestselling author of Other Birds

"With stirring prose and strong characters, Terry captures the complexities of memory and the difficulties of going home."—Publishers Weekly

"Pamela Terry offers a powerful wallop of drama, humor, and grief, all gorgeously wrapped in evocative language. . . . A story of family and of courage that begs to be read more than once."—Karen White, New York Times bestselling author of Dreams of Falling

"Lovely, lyrical, and often profound, The Sweet Taste of Muscadines is women's fiction at its finest and then something more. . . . An emotionally evocative story with a strong sense of place."—New York Journal of Books

"This moving novel reminds us of the necessity of love, the value of family connection, and the redeeming light of forgiveness. Pamela Terry seems to have a second sight—one that allows her to really see the secret workings of the heart. She writes with humor, elegance, and grace about subjects as universal and diverse as humanity itself."—Patti Callahan Henry, New York Times bestselling author of The Favorite Daughter