Thirst (Hardcover)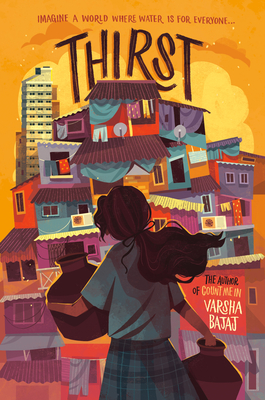 Description
---
A New York Times Bestseller

The riveting story of a heroic girl who fights for her belief that water should be for everyone.

Minni lives in the poorest part of Mumbai, where access to water is limited to a few hours a day and the communal taps have long lines. Lately, though, even that access is threatened by severe water shortages and thieves who are stealing this precious commodity—an act that Minni accidentally witnesses one night. Meanwhile, in the high-rise building where she just started to work, she discovers that water streams out of every faucet and there's even a rooftop swimming pool. What Minni also discovers there is one of the water mafia bosses. Now she must decide whether to expose him and risk her job and maybe her life. How did something as simple as access to water get so complicated?
About the Author
---
Varsha Bajaj is the author of the middle-grade novels Count Me In and Abby Spencer Goes to Bollywood, which was shortlisted for the Cybils Award and included on the Spirit of Texas Reading Program. She also wrote the picture books The Home Builders and This Is Our Baby, Born Today (a Bank Street Best Book). She grew up in Mumbai, India, and when she came to the United States to obtain her master's degree, her adjustment to the country was aided by her awareness of the culture through books. She lives in Houston, Texas.

Praise For…
---
* "Minni lives with her family in Mumbai, India in an incredibly poor neighborhood. Their only access to clean water occurs during a set time of day when the spout is turned on and members of the community wait in line for their turn to fill their containers. It's both time-consuming and inequitable. One night while out riding with her brother, Minni witnesses thieves stealing water. . . . While working, Minni is confronted by the abundance of water everywhere. It just pours freely out of the faucets in the bathrooms and the kitchen—something she has never witnessed before. . . . This title gives readers a powerful look at the importance of free water and how the inequalities surrounding its distribution impacts communities in India. The story is filled with hope and faith as Minni learns the importance of education, family, friendship, opportunities, and taking a stand for her community."—School Library Connection, starred review

* "Twelve-year-old Minni and her older brother Sanjay might live in a poor neighborhood in India, but they have big dreams: to finish school, get good jobs, and maybe live in one of the tall buildings where water runs from the taps. . . . The story largely focuses on Minni's internal thirst—for her family to be reunited, for knowledge, for opportunity, for fair treatment. . . . Minni is a likable narrator, and readers will connect with her dreams and courage in the face of unfair treatment. The book also serves as a window into class difference. . . . A meditative first purchase for middle grade collections." —School Library Journal, starred review

* "Varsha Bajaj (Count Me In) brings awareness to the world water crisis and social inequality with Thirst, a moving, hopeful story. . . . Bajaj thoughtfully examines class and privilege, making topics like water access and income inequality accessible to middle-grade readers. Bajaj shows how a lack of clean water, decent health care and education can affect people's lives. Minni can't focus on schoolwork because she's hungry and exhausted; anger, fear and frustration frequently play out in the water line; and people adapt just to survive their environment (e.g., boiling water to fend off diseases). Water may not flow freely like it does in the high-rise Minni works in, but community and hope do. A sense of togetherness—whether it's Minni's aunties bringing her food or the school guard allowing her to enter school late—pulses through this meaningful narrative." —Shelf Awareness, starred review

"In this poignant, relatable work, Bajaj expertly depicts class and wealth differences; Minni's worries for her mother and anger at the injustices inflicted on her community are especially moving. A valiant call for justice." —Kirkus Reviews

"A 12-year-old investigates water stolen from her Mumbai neighborhood in this clear look at resource access and wealth disparity. . . . Aptly describing variations between rich and the poor and alternating Minni's first-person telling with the child's observant journal entries, Bajaj (Count Me In) writes an engaging literary mystery." —Publishers Weekly

"[There] are real and clear hardships, but Minni's thoughtful narration and occasional poetry also depict a family and community working tirelessly to support one another and instill hope in an environment that's especially hard on women and children. Inspired problem-solving and help from a charming cast of characters. . . . An author's note draws attention to the realities of the water crisis in India." —The Bulletin of the Center for Children's Books

"The kids are smart and savvy, and their friendship is strong, so when a series of calamities adds layers of danger, they support one another through the worst of it. This fast-paced adventure story includes a vivid portrayal of life in a place where income disparities are glaring, education is a hard-won privilege, and a lot hangs in the balance when you take a risk. The main plot involves the kids' accidental encounter with the water mafia, thieves who steal and sell fresh water illegally. This is a real and perilous fact in Mumbai and . . . is convincingly portrayed. There's a lot to learn about and to like here: the characters, the humor, the emotional roller-coaster ride, and more." —Booklist

"Bajaj's suspenseful novel peels back the curtain on class and caste inequities and how they create a cycle of poverty that spirals through generations. Minni's thirst for what's right steers the novel toward an optimistic conclusion in which one person can bring about big changes." —Horn Book