My Paati's Saris (Hardcover)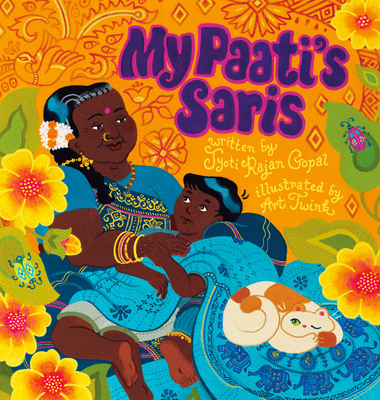 Description
---
A Tamil boy explores his love for his grandmother and her colorful sari collection in this tale of expressing your true self.


Another exciting day with Paati begins with a host of fun activities done in preparation for tonight's party; threading flowers into garlands for decoration, going to the market, and helping her in the kitchen with the scent of sambar in the air.

Through it all the boy finds comfort in Paati's sari, whether he's wrapped in its colors for dress-up or clutching its folds for comfort. Each sari holds a story—ones that speak to him, but most important of all they allow him just to be.

With joyful text by Jyoti Rajan Gopal and dazzling art by Art Twink, My Paati's Sari is a commemoration of how clothing can convey tradition and individuality, and connect us to both our families and ourselves.

About the Author
---
Jyoti Rajan Gopal is a writer, mom and Kindergarten teacher. Growing up, she lived in Thailand, Indonesia, Myanmar, India and China. Twenty-seven years ago, she moved to New York and she now lives in Yonkers in a quirky old Victorian, with her husband and two daughters. Jyoti writes stories that speak to her heart, that reflect her multiple identities, that she wishes her daughters had growing up, that she wishes her students had now. When not writing or teaching, she loves to work in her garden, dance hip-hop and swing, and explore the many New York State park trails.

Art Twink grew up drawing critters they thought up to comfort themselves and their friends, and that mission continues to this very day. For Art Twink, art is for creating community and safety in a world that offers very little of either. After 6 years of working in graphic apparel design for brands like Disney, Marvel, Nintendo, and Star Wars, Art Twink is well versed in the technical and commercial world of visual art. However, Art Twink is a storyteller at heart. As a trans artist of color, they carry on the tradition of telling stories that inspire, validate, and comfort people and creatures in hard times as a trans artist of color.
Praise For…
---
A School & Library Journal Best Picture Book of the Year!
A New York Public Library Best Book For Kids of 2022!

PRAISE FOR MY PAATI'S SARIS!

"...A story of love and acceptance." - Booklist

"A simple yet empowering journey through a cupboard of saris and stories."  - Kirkus Reviews

* "...A buoyant picture book about burgeoning identity and family lineage." - Publisher's Weekly, starred review

* "An expression of love threaded into the weave and weft of a boy's yearning, this recommended purchase should be on the shelves for use in cross-generational units, LGBTQIA+ acceptance, and cultural awareness+M35." - School & Library Journal, starred review