Boys Dance! (American Ballet Theatre) (Hardcover)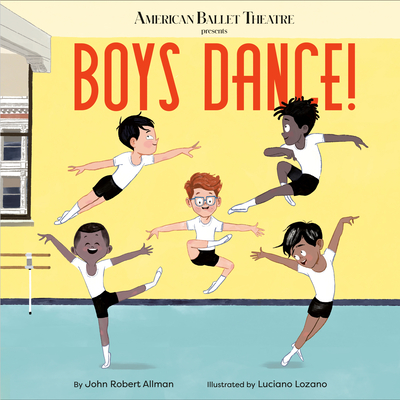 Description
---
A lively and encouraging picture book celebrating boys who love to dance, from the renowned American Ballet Theatre.

Boys who love to dance are center stage in this encouraging, positive, rhyming picture book about guys who love to pirouette, jeté, and plié. Created in partnership with the American Ballet Theatre and with the input of their company's male dancers, here is a book that shows ballet is for everyone.

Written by the acclaimed author of A Is for Audra: Broadway's Leading Ladies from A to Z, this book subtly seeks to address the prejudice toward boys and ballet by showing the skill, hard work, strength, and smarts is takes to be a dancer. Fun and buoyant illustrations show boys of a variety of ages and ethnicities, making this the ideal book for any boy who loves dance. An afterword with photos and interviews with some of ABT's male dancers completes this empowering and joyful picture book.
About the Author
---
JOHN ROBERT ALLMAN lives in New York City, where he works in marketing for television and theater. He is the author of B Is for Ballet: A Dance Alphabet, Boys Dance!, and The Night Before the Nutcracker with American Ballet Theatre, in addition to A Is for Audra: Broadway's Leading Ladies from A to Z and B Is for Broadway: Onstage and Backstage from A to Z. He was born and raised in Texas, where he was often the only boy in dance class. Follow him on Twitter and Instagram at @Johnny_Allman.

LUCIANO LOZANO is a Barcelona-based illustrator. His children's books include Diana Dances, Mayhem at the Museum, and The Sun Shines Everywhere. See more of Luciano's work at lucianolozano.com and follow him on Instagram at @ilustrista.

AMERICAN BALLET THEATRE is considered one of the greatest dance companies in the world. Revered as a national treasure since its founding in 1939, its mission is to create, present, preserve, and extend the great repertoire of classical dancing. Located in New York City, ABT tours the United States annually and has made more than 30 international tours to 45 countries. ABT's repertoire includes full-length classics from the nineteenth century, the finest works from the early twentieth century, and acclaimed contemporary masterpieces. In 2006, by an act of Congress, ABT became America's National Ballet Company®. Find out more at ABT.org and follow them on Instagram at @abtofficial and on Twitter at @ABTBallet.
Praise For…
---
"Highly recommended for young boys who love to dance."—Booklist

"Boys Dance! gives boys who love ballet a chance to feel seen."—HuffPost.com

"A happy and spirited view of dance in the studio, onstage, and in everyday life. . . . Children of all genders who are drawn to dance will appreciate the positive reinforcement. Boys and ballet—a happy and upbeat combo."—Kirkus

"A love letter to boys who dance ballet, as well as a love letter to the talented men who have paved the way. . . .  There's a palpable sense of joy as well as a personal touch that permeates through this picture book's pages.—Fatherly.com