Dream Big!: How to Reach for Your Stars (Paperback)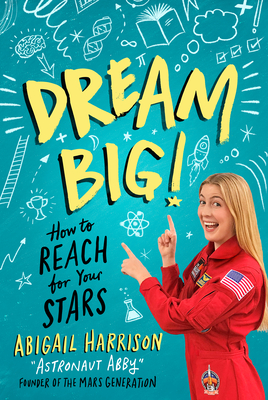 $12.99
Email or call for price.
Description
---
From Astronaut Abby, the dynamic founder of The Mars Generation, comes a book about dreaming big, reaching for the stars, and making a plan for success!

From the age of four, Abigail Harrison knew she wanted to go to space. At age eleven, she sat down and wrote out a plan--not just for how to become an astronaut, but how to be the first astronaut to set foot on Mars. With a degree in biology, internships at NASA, and a national organization founded to help kids reach for the stars themselves, Astronaut Abby is well on her way to achieving her dreams--and she wants to help others do the same!

In this book, readers will find helpful advice and practical tips that can help set them on the path toward finding, reaching for, and achieving their goals. With examples from Abby's own life, interactive activities to get readers going, and plenty of fun illustrations along the way, this is the perfect guide for anyone--of any age--with big dreams and plenty of determination. It's time to reach for the stars!

Praise for Dream Big!:

"With friendly encouragement . . . the content and approach are general enough to appeal both to STEM-oriented fans of the author as well as those whose interests lie in other areas . . . Fun and helpful." --Kirkus Reviews

"Any young person who wants to achieve their dreams will find this comprehensive book helpful." --Booklist

"The conversational style is easy to understand. . . . There are eye-catching fonts, icons, think bubbles, and callouts. . . . A recommended purchase for middle school and high school libraries. Counselors assisting high schoolers with college preparation and educators teaching leadership classes will find many of the journaling activities very useful." --School Library Journal
About the Author
---
Abigail "Astronaut Abby" Harrison (astronautabby.com) is an aspiring astronaut and the co-founder of the international nonprofit organization The Mars Generation. A rising star in her field, she holds a degree in biology from Wellesley College, has interned at a NASA-funded astrobiology lab, and currently works as a research scientist at the Jackson Lab at Harvard Medical School, and she has been featured in TIME, Forbes, Seventeen, Marie Claire, Glamour, Teen Vogue, the BBC, USA Today, CNN, and more. Abby believes that no one is ever too young to pursue their dreams--she herself is living proof of that notion--and she's determined to help as many young people as possible start reaching for their very own stars. All proceeds earned by Abby from the sale of this book will be donated to The Mars Generation, Inc., a 501(c)(3) nonprofit. Abbyis from Minneapolis. Follow her on Twitter @AstronautAbby, on Facebook at Facebook.com/AstronautAbby, and on Instagram @AstronautAbbyOfficial.
Praise For…
---
Praise for Dream Big!:

"With friendly encouragement . . . the content and approach are general enough to appeal both to STEM-oriented fans of the author as well as those whose interests lie in other areas . . . Fun and helpful." --Kirkus Reviews

"Any young person who wants to achieve their dreams will find this comprehensive book helpful." --Booklist

"The conversational style is easy to understand. . . . There are eye-catching fonts, icons, think bubbles, and callouts. . . . A recommended purchase for middle school and high school libraries. Counselors assisting high schoolers with college preparation and educators teaching leadership classes will find many of the journaling activities very useful." --School Library Journal