Let's Start Over!: A simple way to fix a bad day (Hardcover)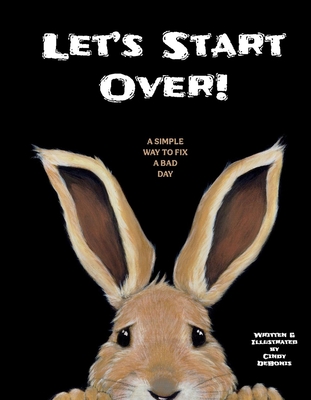 $24.95
Email or call for price.
Description
---
This book is for everyone! "Let's Start Over!" is an impactful and vibrantly illustrated children's book filled with important life lessons that help remind us that our "differences" allow us to be unique and make the world a better place. Parents and Educators will be encouraged by the good and peaceful messages in "Let's Start Over!" and pass them along to future generations for years to come.
About the Author
---
Cindy DeBonis is a self-taught sculptor/artist with a career spanning over 30 years. Sculpting for major production and fabrication industries such as Hanna Barbera, Disney, Warner Brothers, Sony, Paramount, Universal Studios, Dreamworks, Landmark Entertainment, AES, Jon Richards Co and personal projects stabilized a solid foundation towards her constant passion to form works of art that connect all of humanity in a loving light.

Growing up in Mt Baldy California a wild and free mountain child without too many strings attached, Cindy was raised by an artist father and philosophical mother, not by wolves… although she did live like someone left the gate open, running through the forest, building ponds and tree-forts, hiking, fishing, playing, and daydreaming. Through all these years inventing, designing, and building have been and continue to be her go-to place in finding inner peace and her artwork represents just that, a sense of peace. Writing and illustration are now additional mediums in her quest for a contented world.