Pink Is For Blobfish: Discovering the World's Perfectly Pink Animals (The World of Weird Animals) (Hardcover)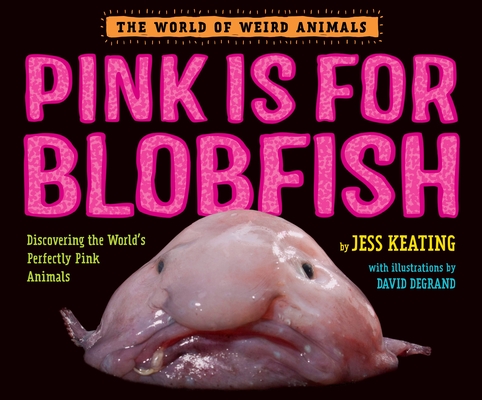 $16.99
Email or call for price.
Description
---
Pinkalicious meets National Geographic in this nonfiction picture book introducing the weirdest, wildest, pinkest critters in the animal kingdom!

Some people think pink is a pretty color. A fluffy, sparkly, princess-y color. But it's so much more.
Sure, pink is the color of princesses and bubblegum, but it's also the color of monster slugs and poisonous insects. Not to mention ultra-intelligent dolphins, naked mole rats and bizarre, bloated blobfish.

Isn't it about time to rethink pink?

Slip on your rose-colored glasses and take a walk on the wild side with zoologist Jess Keating, author of How to Outrun a Crocodile When Your Shoes Are Untied, and cartoonist David DeGrand.

A New York Public Library Best Book for Kids, 2016

"The 2016 Ambassador to Young People's Science and Nature books is unquestionably the blobfish." —Shelftalker

"Readers will never look at pink the same way." —Publishers Weekly
About the Author
---
Jess Keating is a zoologist-turned-author who writes with the sort of wisdom you can only get from multiple crocodile bites and skunk sprays. Jess has been making up stories for as long as she can remember, and at the age of eight, she even started a library in her room (mainly so she could charge her brother late fees). In addition to nonfiction, she writes middle-grade novels, including the Kirkus-starred How to Outrun a Crocodile When Your Shoes Are Untied.

Jess lives with her husband in Ontario, Canada, where she is hard at work on her next book in the World of Weird Animals series. Hint: There will be bloodsuckers!
Praise For…
---
"The 2016 Ambassador to Young People's Science and Nature books is unquestionably the blobfish." —Shelftalker

"The comical tone makes this particularly inviting, and DeGrand's cartoonish illustrations only add to the fun. A playful introduction to the kookier corners of the animal kingdom." —Booklist

"Readers will never look at pink the same way.... Keating maintains a casual tone while delivering intriguing details about each animal." —Publishers Weekly

"Bratz, Monster High, and their ilk have recently demonstrated that how much attitude pink can pack, but Nature has been onto this fact for quite a while. Keating rattles off seventeen creatures from land, sea, and air whose coloration punches a hole in pink's girly-girl image." —The Bulletin

"Pink is for bubble gum and ballet slippers, sure, but it's also for blobfish, pinktoe tarantulas, pygmy seahorses, Amazon river dolphins [etc.] . . . A map and glossary are the pink icing on the pink cake. It's clearly time to rethink pink, people." —Shelf Awareness