Light: A Novel (Kefahuchi Tract #1) (Paperback)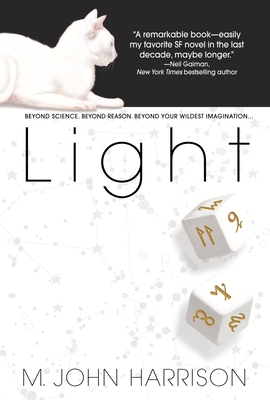 $18.00

In Our Warehouse - Expected arrival in 2-5 days
Other Books in Series
This is book number 1 in the Kefahuchi Tract series.
Description
---
In M. John Harrison's dangerously illuminating new novel, three quantum outlaws face a universe of their own creation, a universe where you make up the rules as you go along and break them just as fast, where there's only one thing more mysterious than darkness.

In contemporary London, Michael Kearney is a serial killer on the run from the entity that drives him to kill. He is seeking escape in a future that doesn't yet exist—a quantum world that he and his physicist partner hope to access through a breach of time and space itself. In this future, Seria Mau Genlicher has already sacrificed her body to merge into the systems of her starship, the White Cat. But the "inhuman" K-ship captain has gone rogue, pirating the galaxy while playing cat and mouse with the authorities who made her what she is. In this future, Ed Chianese, a drifter and adventurer, has ridden dynaflow ships, run old alien mazes, surfed stellar envelopes. He "went deep"—and lived to tell about it. Once crazy for life, he's now just a twink on New Venusport, addicted to the bizarre alternate realities found in the tanks—and in debt to all the wrong people.

Haunting them all through this maze of menace and mystery is the shadowy presence of the Shrander—and three enigmatic clues left on the barren surface of an asteroid under an ocean of light known as the Kefahuchi Tract: a deserted spaceship, a pair of bone dice, and a human skeleton.

Praise for Light

"Uproarious, breath-taking, exhilarating . . . This is a novel of full spectrum literary dominance. . . . It is a work of—and about—the highest order."—Guardian

"An increasingly complex and dazzling narrative . . . Light depicts its author as a wit, an awesomely fluent and versatile prose stylist, and an SF thinker as dedicated to probing beneath surfaces as William Gibson is to describing how the world looks when reflected in them. . . . SF fans and skeptics alike are advised to head towards this Light."—Independent

"Light is a literary singularity: at one and the same time a grim, gaudy space opera that respects the physics, and a contemporary novel that unflinchingly revisits the choices that warp a life. It's almost unbearably good."—Ken MacLeod, author of Engine City 
About the Author
---
M. John Harrison is the award-winning author of eight previous novels and four collections of short stories. His fifth novel, In Viriconium, was shortlisted for the Guardian Fiction Prize and his sixth, Climbers, won the Boardman Tasker Award. Light was recently awarded the James Tiptree Jr. Award and shortlisted for the 2002 Arthur C. Clarke Award.
Praise For…
---
"Uproarious, breath-taking, exhilarating . . . This is a novel of full spectrum literary dominance. . . . It is a work of—and about—the highest order."—Guardian

"An increasingly complex and dazzling narrative . . . Light depicts its author as a wit, an awesomely fluent and versatile prose stylist, and an SF thinker as dedicated to probing beneath surfaces as William Gibson is to describing how the world looks when reflected in them. . . . SF fans and skeptics alike are advised to head towards this Light."—Independent

"Light is a literary singularity: at one and the same time a grim, gaudy space opera that respects the physics, and a contemporary novel that unflinchingly revisits the choices that warp a life. It's almost unbearably good."—Ken MacLeod, author of Engine City

"At last M. John Harrison takes on quantum mechanics. The first classic of the quantum century, Light is a folded-down future history bound together by quantum exotica and human endurance. Taut as Hemingway, viscerally intelligent, startlingly uplifting, Harrison's ideas have a beauty that unpacks to infinity."—Stephen Baxter, award-winning author of Evolution and Coalescent

"Harrison's novel is a cleverly assembled contemplation of how choices make lives and of opening quantum mechanical doors on bizarre potential futures."—Booklist

"Surely one of the best novels of the year . . . Deeply satisfying . . . the final chapters are a marvel of transcendence, reconciliation and redemption."—San Francisco Chronicle Books

"Brilliant, reality-bending SF . . . This is space opera for the intelligensia."—Publishers Weekly (starred review)

"Succeeds in evoking the sense of wonder that science fiction readers look for in the best of the genre . . . Harrison brings an up-to-date sensibility to the hoary conceits of science fiction."—The New York Times Book Review

"Light is mind-bending in both its conceptual framework and literary deftness."—Entertainment Weekly