The Day Before Midnight: A Novel (Mass Market)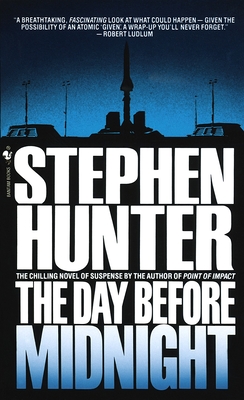 Email or call for price.
Not Available at This Time
Description
---
"A breathtaking, fascinating look at what could happen—given the possibility of an atomic 'given.' A wrap-up you'll never forget."—Robert Ludlum

The countdown begins when welder Jack Hummel is abducted from his suburban Maryland home ans whisked to the South Mountain MX missile site—a top-secret nuclear complex now taken over by paramilitary terrorists.

All that stands between the Uzi-armed commandos and the launch button is a half-ton titanium block. They want Jack Hummel to cut through it—so they can unleash a devastatingly brilliant plot that threatens global disaster.

Now a Delta Force veteran and a think-tank defense wizard must get inside South Mountain—by defeating their own super-security systems and a darkly ingenious enemy leader . . . 

. . . while Jack Hummel's torch burns closer and closer to the launch key . . . while the clock ticks closer to midnight—and Armageddon.

Praise for The Day Before Midnight

"Rockets toward a shattering climax like an incoming missile."—Stephen Coonts, author of Flight of the Intruder and Final Flight

"Nonstop action and mounting tension."—The New York Times Book Review

"Slam-bang action and relentless suspense."—The Washington Post

"The novel crackles and jolts."—Chicago Tribune

"The one to beat this year in the nail-biter class . . . an edge-of-the-seat doomsday countdown thriller."—Daily News, New York
About the Author
---
Stephen Hunter is the author of 20 novels and the retired chief film critic for the Washington Post, where he won the 2003 Pulitzer Prize for Distinguished Criticism. His novels include The Third Bullet; Sniper's Honor; I, Sniper; I, Ripper; and Point of Impact, which was adapted for film and TV as Shooter. Hunter lives in Baltimore, Maryland.
Praise For…
---
"A breathtaking, fascinating look at what could happen—given the possibility of an atomic 'given.' A wrap-up you'll never forget."—Robert Ludlum

"Rockets toward a shattering climax like an incoming missile."—Stephen Coonts, author of Flight of the Intruder and Final Flight

"Nonstop action and mounting tension."—The New York Times Book Review

"Slam-bang action and relentless suspense."—The Washington Post

"The novel crackles and jolts."—Chicago Tribune

"The one to beat this year in the nail-biter class . . . an edge-of-the-seat doomsday countdown thriller."—Daily News, New York