The Ends of the Earth: The Wide World, James Maxted 3 (Paperback)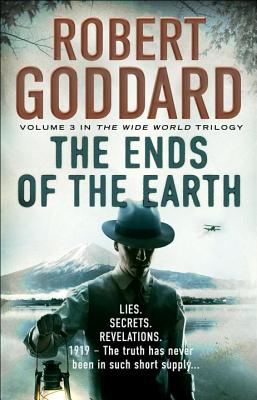 Email or call for price.
Not Available at This Time
Description
---
A thrilling climax to Robert Goddard's bestselling adventure trilogy, "The Wide World."
July 1919. Ex-flying ace James 'Max' Maxted's attempt to uncover the secret behind the death of his father, Sir Henry Maxted, murdered while serving as an adviser with the British delegation to the Paris peace conference, has seemingly ended in failure -- and his own death.
The trail uncovered by him leads to Japan and a mysterious prisoner held by Sir Henry Maxted's old enemy, Count Tomura. Unaware of Max's fate, the team he has recruited to finish the job are already there, where their paths cross that of former German spymaster, Fritz Lemmer, now rebuilding his spy network in the service of a new, more sinister cause.
In the days and weeks ahead, the quest Max embarked on in Paris will reach its dizzying end at Tomura's castle in the mountains of Honshu -- and the full truth of what occurred thirty years before will finally be laid bare.
About the Author
---
"

"

ROBERT GODDARD was born in Hampshire and read History at Cambridge. His first novel,

"Past Caring," was an instant bestseller. Since then his books have captivated readers worldwide with their edge-of-the-seat pace and their labyrinthine plotting. The first Harry Barnett novel, "Into the Blue," was winner of the first WHSmith Thumping Good Read Award and was dramatized for TV, starring John Thaw. His thriller, "Long Time Coming "won an Edgar in the Mystery Writers of America awards. " "