The Sign of the Beaver: A Newbery Honor Award Winner (Paperback)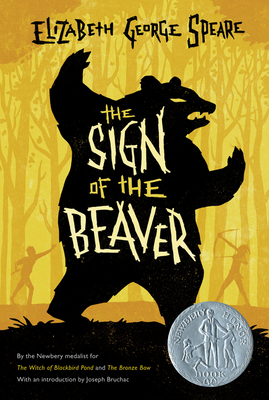 List Price: $9.99
Our Price: $6.99
(Save: $3.00 30%)
Description
---
In this Newbery Honor Book, a thirteen-year-old boy struggles to survive on his own in the wilderness of eighteenth-century Maine.
When Matt's father leaves him on his own to guard their new cabin in the wilderness, Matt is scared but determined to be brave and prove that he can take care of himself. And things are going fine until a white stranger steals his gun, leaving Matt defenseless and unable to hunt for his food.
Then Matt meets Attean, a Native boy from the Beaver tribe, and soon learns that people called the land around him home long before the white settlers ever arrived. As Attean teaches him more about his own culture, Matt must come to terms with what the changing frontier really means.
Now with an introduction by critically acclaimed writer Joseph Bruchac about the historical context and the relationships between Native peoples and white settlers in the eighteenth century.
About the Author
---
"I was born in Melrose, Massachusetts, on November 21, 1908. I have lived all my life in New England, and though I love to travel I can't imagine ever calling any other place on earth home. Since I can't remember a time when I didn't intend to write, it is hard to explain why I took so long getting around to it in earnest. But the years seemed to go by very quickly. In 1936 I married Alden Speare and came to Connecticut. Not till both children were in junior high did I find time at last to sit down quietly with a pencil and paper. I turned naturally to the things which had filled my days and thoughts and began to write magazine articles about family living. Then one day I stumbled on a true story from New England history with a character who seemed to me an ideal heroine. Though I had my first historical novel almost by accident it soon proved to be an absorbing hobby." Elizabeth George Speare (1908-1994) won the 1959 Newbery Medal for THE WITCH OF BLACKBIRD POND, and the 1962 Newbery Medal for THE BRONZE BOW. She also received a Newbery Honor Award in 1983, and in 1989 she was presented with the Laura Ingalls Wilder Award for her substantial and enduring contribution to children's literature.
Praise For…
---
"Matt joins other memorable characters, Kit, Julie, and Karana, finding his inner strength and values in a changing world in this well-written and fast-reading story." — School Library Journal (starred review)