Curious George at the Aquarium/Jorge el curioso visita el acuario: Bilingual English-Spanish (Paperback)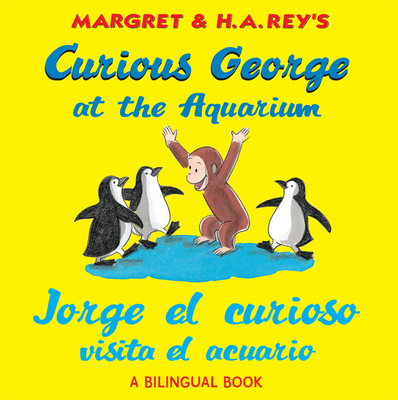 Description
---
The aquarium is one big, exciting place for a little monkey. George's curiosity helps him make lots of new friends . . . and get into lots of mischief too. But when a baby penguin is in trouble, George comes to the rescue as only a monkey can! The new English/Spanish edition includes highly readable text and bilingual bonus activities. More than 680,000 copies sold in all formats!

The animated series Curious George is available to watch on Peacock, NBC Universal's streaming platform.
 
About the Author
---
Hans and Margret Rey created many books during their lives together, including Curious George, one of the most treasured classics of all time, as well as other favorites like Spotty and Pretzel. But it was their rambunctious little monkey who became an instantly recognizable icon. After the Reys escaped Paris by bicycle in 1940 carrying the manuscript for the original Curious George, the book was published in America in 1941. More than 200 Curious George titles followed, with 75 million books sold worldwide. Curious George has been successfully adapted into a major motion picture and an Emmy-winning television show on PBS.