El Capitán Calzoncillos y la sensacional saga del señor Sohediondo (Captain Underpants #12) (Paperback)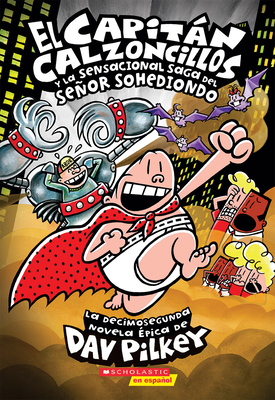 $5.99
Email or call for price.
Description
---
There is something rotten in the state of Ohio, and it's smellier tan a pile of putrid gym socks! Steer clear-it's Sir Stinks-A-Lot!George and Harold, and their doubles, Yesterday George and Yesterday Harold, have a good thing going. Two of them go to school, while the other two hide in the three house and play video games all day-then they switch! But when their malicious gym teacher, Mr. Meaner, creates a method of mind-control that turns their fellow students into attentive, obedient children, the future of all humanity will be in their hands! Jorge, Berto y sus dobles, Jorge y Berto de Ayer, la están pasando muy bien. Dos de ellos van a la escuela mientras los otros dos se la pasan en la casa del árbol divirtiéndose todo el día. ¡Luego, se intercambian! Pero un malicioso maestro inventa un nuevo método de controlar la mente de sus estudiantes y convertirlos en chicos obedientes y estudiosos. Ahora, Jorge, Berto sus dobles no tendrán más remedio que entrar en acción, ¡ya que el futuro de la humanidad está en sus manos!
About the Author
---
When Dav Pilkey was a kid, he was diagnosed with ADHD and dyslexia. Dav was so disruptive in class that his teachers made him sit out in the hallway every day. Luckily, Dav loved to draw and make up stories. He spent his time in the hallway creating his own original comic books -- the very first adventures of Dog Man and Captain Underpants.
In the second grade, Dav's teacher ripped up his comics and told him he couldn't spend the rest of his life making silly books.
Fortunately, Dav was not a very good listener.