Ice Cream & Dinosaurs (Groovy Joe #1) (Hardcover)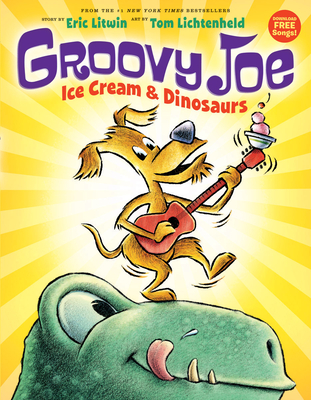 Other Books in Series
This is book number 1 in the Groovy Joe series.
Description
---
Meet Groovy Joe, a fun-lovin', guitar-strummin', doggy-ice-cream-eatin' pup as he wrangles three hungry dinosaurs and soon has them singing, grooving, and sharing! Groovy Joe was living the dream.He had a spoon and tub of doggy ice cream.And he started to sing: Love my doggy ice cream! Love my doggy ice cream!Eric Litwin, author of the bestselling and beloved Pete the Cat: I Love My White Shoes, and bestselling artist Tom Lichtenheld, illustrator of Goodnight, Goodnight Construction Site, have created a captivating new canine character who will groove his way into readers' hearts and have them grooving and giggling all the while. In his debut adventure, Groovy Joe faces three roaring dinosaurs hungry for his doggy ice cream! Oh no! But Joe knows just what to do and soon enough he has them all sharing while moving and singing along. Signature rhyme, repetition, and musical writing style, combined with wild and witty illustrations come together to create an unforgettable new character who embodies positivity, creativity, and kindness. Groovy Joe is here, ready to get groovy!
About the Author
---
Eric Litwin is a #1 New York Times bestselling author who merges music and early literacy together. He is the author of the first four Pete the Cat picture books and the exciting new musical series The Nuts. Eric's books have sold more than 6.5 million copies and won 18 state and national awards, including a Theodor Geisel Seuss Honor Award. Eric is a popular performing artist who plays guitar, sings, tells stories, and brings books to life. Visit him at ericlitwin.com.
Tom Lichtenheld is the illustrator of New York Times bestsellers Duck! Rabbit!, Exclamation Mark, Steam Train, Dream Train, Shark vs. Train, Mighty, Mighty Construction Site, and Goodnight, Goodnight, Construction Site, which has been on the bestseller list for over three years. He has also written and illustrated a number of books, including What Are You So Grumpy About?, Cloudette, and E-mergency, a Publishers Weekly and Boston Globe Best Book of 2011. For more information, visit him at tomlichtenheld.com.
Praise For…
---
2017 Bridge to Reading Picture Book Award Winner! "First-time collaborators Litwin (Pete the Cat: I Love My White Shoes) and Lichtenheld (Friendshape) inject raucous rhymes and humor into their lesson about sharing: it's the sugar that helps the medicine go down." -- Publishers Weekly"Children will want to move and groove along with the mischievous and playful dog and hishefty and humorous friends in this colorful rhyming story, sure to capture lots of attention." -- Booklist"[A] catchy tune, dancing dinosaurs, and strawberry ice cream are an enticing combination." -- KirkusPraise for Pete the Cat: I Love My White Shoes"I could not believe how simple yet creative it was... Eric, inspired by folk songs, fun, and folksy folks, is a guitar-strumming, song-singing, banjo-picking, tale-telling, harmonica-blowing guy." -- Children's LiteraturePraise for The Nuts: Bedtime at the Nut House"Children will ask for it again and again." -- School Library JournalPraise for Exclamation Mark!*"How does an exclamation mark learn his purpose? Readers will giggle and cheer to see the process."-- Kirkus, starred review*"This picture book deserves a !!!"-- Booklist, starred review*"This one is a must-have!!!"-- School Library Journal, starred review

2017 Bridge to Reading Picture Book Award Winner! "First-time collaborators Litwin (Pete the Cat: I Love My White Shoes) and Lichtenheld (Friendshape) inject raucous rhymes and humor into their lesson about sharing: it's the sugar that helps the medicine go down." -- Publishers Weekly"Children will want to move and groove along with the mischievous and playful dog and hishefty and humorous friends in this colorful rhyming story, sure to capture lots of attention." -- Booklist"[A] catchy tune, dancing dinosaurs, and strawberry ice cream are an enticing combination." -- KirkusPraise for Pete the Cat: I Love My White Shoes"I could not believe how simple yet creative it was... Eric, inspired by folk songs, fun, and folksy folks, is a guitar-strumming, song-singing, banjo-picking, tale-telling, harmonica-blowing guy." -- Children's LiteraturePraise for The Nuts: Bedtime at the Nut House"Children will ask for it again and again." -- School Library JournalPraise for Exclamation Mark!*"How does an exclamation mark learn his purpose? Readers will giggle and cheer to see the process."-- Kirkus, starred review*"This picture book deserves a !!!"-- Booklist, starred review*"This one is a must-have!!!"-- School Library Journal, starred review