Ricky Ricotta's Mighty Robot vs. the Video Vultures from Venus (Ricky Ricotta's Mighty Robot #3) (Paperback)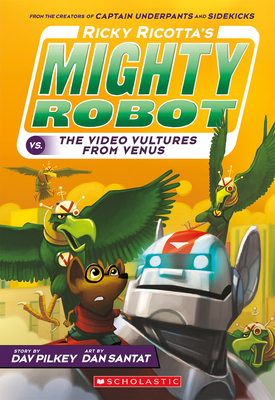 Description
---
From Dav Pilkey, creator of Captain Underpants, and acclaimed artist Dan Santat, an out-of-this-world friendship adventure with all-new full-color illustrations!Ricky Ricotta and his Mighty Robot are best buddies -- but with big friends come big responsibilities...Ricky and his Mighty Robot are late for dinner again, and Ricky's parents are not too happy. They think Ricky and his Robot need to learn a lesson, so that night they send the boys to bed without TV.Luckily for Ricky and his Robot, their punishment saves them from falling under the spell of Victor Von Vulture, a villain from the planet Venus. Victor has invaded Earth with his Video Vultures, with plans to steal all the food in Squeakyville. Now only Ricky and his Robot can send the bad guys soaring back into space!
About the Author
---
When Dav Pilkey was a kid, he was diagnosed with ADHD and dyslexia. Dav was so disruptive in class that his teachers made him sit out in the hallway every day. Luckily, Dav loved to draw and make up stories. He spent his time in the hallway creating his own original comic books -- the very first adventures of Dog Man and Captain Underpants.
In the second grade, Dav's teacher ripped up his comics and told him he couldn't spend the rest of his life making silly books.
Fortunately, Dav was not a very good listener.
Dan Santat is the Caldecott Medal-winning and
New York Times
bestselling author and illustrator of
The Adventures of Beekle: The Unimaginary Friend
. He is also the creator of acclaimed graphic novels
The Aquanaut
and
A First Time for Everything
, and his art is featured in numerous children's books, including Dav Pilkey's Ricky Ricotta series and picture books by Henry Winkler and Jake Gyllenhaal. Dan lives in Southern California with his wife, two kids, and pets. Visit him online at dansantatbooks.com.
Praise For…
---
Praise for the Ricky Ricotta series:"This reboot... offer[s] a new generation of readers a fun introduction to chapter books... Newly independent readers and Pilkey fans alike will not be disappointed by the humorous ride." -- School Library Journal"Aimed at a younger audience than the wildly popular Captain Underpants books, this series... has all the classic Pilkey hallmarks: comic book panels, superhero action, and flip-o-rama." -- Booklist

Praise for the Ricky Ricotta series:"This reboot... offer[s] a new generation of readers a fun introduction to chapter books... Newly independent readers and Pilkey fans alike will not be disappointed by the humorous ride." -- School Library Journal"Aimed at a younger audience than the wildly popular Captain Underpants books, this series... has all the classic Pilkey hallmarks: comic book panels, superhero action, and flip-o-rama." -- Booklist