The White House: A Pop-Up of Our Nation's Home (Board book)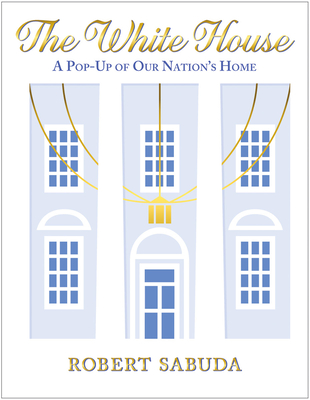 $29.99
Email or call for price.
Description
---
Go on a pop-up tour of the White House with bestselling paper engineer Robert Sabuda!In this spectacular pop-up guide to the White House by bestselling paper engineer Robert Sabuda, readers can take a tour behind the scenes of the office of the executive branch and the residence of the president and his family. Travel through time as you open each spread and discover the North Face of the White House, the East Room, the Lincoln Bedroom, the Rose Garden, the Oval Office, and the South Lawn of the White House. The text includes the poem "Inauguration Day" by Richard Watson Gilder, adapted by Robert Sabuda.Every American president since John Adams has lived in the White House. More than 1.5 million people visit the White House every year. According to First Lady Michelle Obama, "It's the 'People's House.' It's a place that is steeped in history, but it's also a place where everyone should feel welcome." The White House: A Pop-Up of Our Nation's Home is perfect for Presidents Day and the upcoming election.
About the Author
---
Robert Sabuda "is indisputably the king of pop-ups," as the New York Times put it. He is the pop-up artist and paper engineer behind many beloved pop-up books, including The Christmas Alphabet, Christmas, America the Beautiful, Winter's Tale, and The Little Mermaid. For more information, go to robertsabuda.com.
Praise For…
---
Praise for Winter's Tale:
* "For Sabuda, it almost goes without saying that the paper engineering is breathtaking." -- Kirkus Reviews, starred review
Praise for The Little Mermaid:
* "In his latest stunner, Sabuda pairs a version of the tale ... to paper-engineered effects that, as usual, raise the bar of the physically possible." -- Kirkus Reviews, starred review
Praise for The Dragon & The Knight:
* "With Sabuda, it's hard to set expectations too high or wide, but here he rides triumphantly roughshod over them anyway." -- Kirkus Reviews, starred review
Praise for Chanukah Lights:
* "Sabuda's intricate and inventive paper engineering is a little miracle in keeping with the miraculous oil of the event that Hanukkah commemorates. .... A stunning achievement." -- Publishers Weekly, starred review
Praise for Winter's Tale:* "For Sabuda, it almost goes without saying that the paper engineering is breathtaking." -- Kirkus Reviews, starred review Praise for The Little Mermaid:* "In his latest stunner, Sabuda pairs a version of the tale ... to paper-engineered effects that, as usual, raise the bar of the physically possible." -- Kirkus Reviews, starred reviewPraise for The Dragon & The Knight:* "With Sabuda, it's hard to set expectations too high or wide, but here he rides triumphantly roughshod over them anyway." -- Kirkus Reviews, starred reviewPraise for Chanukah Lights:* "Sabuda's intricate and inventive paper engineering is a little miracle in keeping with the miraculous oil of the event that Hanukkah commemorates. .... A stunning achievement." -- Publishers Weekly, starred review