Curious George Goes to the Hospital (Special Edition) (Hardcover)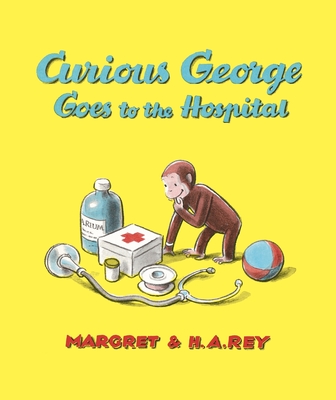 $17.99
Email or call for price.
Description
---
Curious George Goes to the Hospital is now celebrating its 50th anniversary! In this special edition with a beautiful new jacket, Curious George takes a trip to the hospital after swallowing a puzzle piece and learns about the inner workings of the hospital and gets into some mischief. Includes free downloadable audio read by actor John Krasinski. Also includes an afterword from Dr. Frederick Lovejoy Jr., associate physician in chief of the Boston Children's Hospital detailing the wonderful connection the Reys shared with the hospital staff that inspired the book and explains current advances in medical technology and tips on preparing a child for a hospital stay.   
About the Author
---
Margret and H. A. Rey created many books during their lives together, including Curious George, one of the most treasured classics of all time, as well as other favorites like Pretzel, Spotty, and Find the Constellations. They had many pets—including two marmoset monkeys that joined them on one of their steamship journeys across the Atlantic. Committed philanthropists in their own lives, a portion of proceeds from each Curious George book sold flows to the Curious George Foundation, which funds programs for children that encourage inquisitiveness in learning and exploring. Curious George has been successfully adapted into a major motion picture and an Emmy-winning television show on PBS and "Pretzel and the Puppies," based on their picture books, is a streaming series on Apple TV+. www.curiousgeorge.com www.pretzelandthepuppies.com
Margret and H. A. Rey created many books during their lives together, including Curious George, one of the most treasured classics of all time, as well as other favorites like Pretzel, Spotty, and Find the Constellations. They had many pets—including two marmoset monkeys that joined them on one of their steamship journeys across the Atlantic. Committed philanthropists in their own lives, a portion of proceeds from each Curious George book sold flows to the Curious George Foundation, which funds programs for children that encourage inquisitiveness in learning and exploring. Curious George has been successfully adapted into a major motion picture and an Emmy-winning television show on PBS and "Pretzel and the Puppies," based on their picture books, is a streaming series on Apple TV+. www.curiousgeorge.com www.pretzelandthepuppies.com
Praise For…
---
"While beginning readers are convinced that they are enjoying themselves with George, their supervising adults are equally sure that they are learning something. Both are absolutely right." Kirkus Reviews —