The Poison Artist (Hardcover)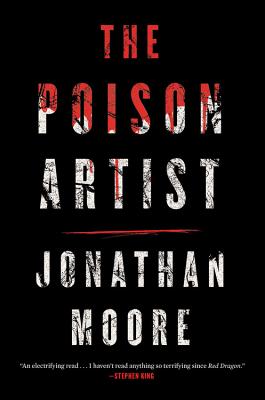 Email or call for price.
Not Available at This Time
Description
---
"An electrifying read… I haven't read anything so terrifying since Red Dragon." —Stephen King

"Patient, stylish and incredibly suspenseful"—Lee Child

"Magnificent, thoroughly unnerving...I dare you to look away." —Justin Cronin

A gripping tale of obsession and deadly mystery, where the secrets of salvation and the most devastating desires are all written in blood

Dr. Caleb Maddox is a San Francisco toxicologist studying the chemical effects of pain. After a bruising breakup with his girlfriend, he's out drinking whiskey when a hauntingly seductive woman appears by his side. Emmeline whispers to Caleb over absinthe, gets his blood on her fingers and then brushes his ear with her lips as she says goodbye. He must find her.

As his search begins, Caleb becomes entangled in a serial-murder investigation. The police have been fishing men from the bay, and the postmortems are inconclusive. One of the victims vanished from the bar the night Caleb met Emmeline. When questioned, Caleb can't offer any information, nor does he tell them he's been secretly helping the city's medical examiner, an old friend, study the chemical evidence on the victims' remains. The search for the killer soon entwines with Caleb's hunt for Emmeline, and the closer he gets to each, the more dangerous his world becomes.

From the first pages up to the haunting, unforgettable denouement, The Poison Artist is a gripping thriller about obsession and damage, about a man unmoored by an unspeakable past and an irresistible woman who offers the ultimate escape.
About the Author
---
JONATHAN MOORE lives in Hawaii with his wife and son, and is the author of five books. Before completing law school in New Orleans, he was an English teacher, a bar owner, a raft guide, a counselor at a Texas wilderness camp for juvenile delinquents, and an investigator for a criminal defense attorney in Washington, D.C.
Praise For…
---
Praise for The Poison Artist
A Best Book of 2016 from Bookreporter.com!

"The Poison Artist is an electrifying read, building from shock to shock. I read the last one hundred pages in a single sitting. The final chapter is an absolute stunner. I haven't read anything so terrifying since Red Dragon."  —Stephen King

"Patient, stylish and incredibly suspenseful." —Lee Child, New York Times best-selling author of the Jack Reacher novels

"A magnificent, thoroughly unnerving psychological thriller written in a lush, intoxicating style.  I dare you to look away." —Justin Cronin, New York Times best-selling author of The Passage and The Twelve
 
"'The Poison Artist' is a rare thing: a totally new take on the mystery-thriller genre...Jonathan Moore's story of a scientist helping the police investigate a femme fatale serial killer using poison is totally fresh and unpredictable. The writing is top-notch, wonderfully evoking a dark and foggy San Francisco where ghosts of the past color the bloody events of the day. Grade: A"—The Cleveland Plain Dealer

"The Poison Artist takes place in a fog-bound, rain-drenched version of San Francisco, which becomes, in Moore's telling, almost a city from a dream, where truths and realities slip in and out of focus somewhere between the long nights and the constantly filled glasses...It's genuinely scarily, in the very best way, and nastily twisty, also in the very best way. Just like the clashes between Caleb's day and night existences, Moore's hypnotic, rich prose shifts and jars from seductive bars at night to the gruesome way fingerprints have to be taken from a body that has been underwater for days. Spiralling down from dream into nightmare, The Poison Artist is thoroughly unnerving and classily executed." —The Guardian
 
"The Poison Artist is an elegant, gripping, hair-raising gothic chiller, a wicked mix of Poe, The Silence of the Lambs, and Vertigo. Settle in for a long night of reading—once this one grabs you, it doesn't let go." —William Landay, New York Times best-selling author of Defending Jacob

"Jonathan Moore has written a wickedly smart, emotionally complex novel that will haunt you long after you turn the last page. Whether you find it seductively terrifying or terrifyingly seductive, in my mind, The Poison Artist is better than Hitchcock." —Lou Berney, author of Whiplash River and The Long and Faraway Gone
 
"With The Poison Artist, Jonathan Moore has given us a brilliant debut thriller, confident, mesmerizing, edgy and very cool. So much happens on every page, it's almost dizzying. Hitchcock should come back from the grave and film this story." —Howard Norman, author of The Bird Artist and Next Life Might Be Kinder

"Moore has a great gift for the macabre and creepy." —The Times
 
"This is a cinematic and phantasmagoric treat... Obsession and violent death collide in an elegantly written thriller." —The Independent
 
"The Poison Artist takes an old film noir set-up - man meets femme fatale and starts to fear that she might be even more dangerous than she looks - and brings it into the modern world...a superior cat and mouse story, with an effective twist in the tail." —Mail on Sunday
 
"This thriller's twists become as dark and intoxicating as the bars where the mystery begins." —Sunday Mirror
 
"A noirish, atmospheric tale…Uniquely sinister…Like Agatha Christie, Jonathan Moore is a writer who gets you hooked on a plot where poison is the cold, clinical method of execution. The Poison Artist is a debut that's both an exemplary psychological crime novel and a masterful exercise in intoxicating dread. It's a strange, sensual story to be savoured like the finest single malt whisky." —Crime Fiction Lover
 
"Jonathan Moore expertly weaves together the murder hunt and Caleb's descent into the demi-monde existence of Emmeline, with the San Francisco setting evoking the dreamlike state of Hitchcock's Vertigo, for a compelling psycho-thriller that releases its poison just the way I like it: slowly and with a wicked grin." —The Crack Magazine
 
"Moore's evocative prose infuses this unusual tale with smoldering noir elegance."—Curled Up with a Book

"There are some books that are just perfect for curling under the covers on dark nights. The Poison Artist, part gothic, part CSI, is one of those books, set in a perpetually fog-shrouded San Francisco that is dark and dangerous."—Reviewing the Evidence
 
"Moore writes beautiful, careful prose and presents readers with an atmospheric story...Where he excels is in the sensuousness of his writing: food, sex, alcohol—he fully engages all of the senses...Absinthe, oysters, the painter John Singer Sargent, a classic car, and a string of disturbing deaths...make this dark tale memorable."—Kirkus Reviews

"With crisp dialogue and skilled plotting, this atmospheric novel—fittingly set in a dark and foggy December in San Francisco—is an engrossing thriller by an author to watch. Give this one to readers who like forensic thrillers but would also be drawn in by the creepy mood."—Booklist, starred review
 
"Exquisite...The sympathetic, though brutally flawed hero and the shocking, Hitchcock-esque finale make this psychological thriller a must-read."—Publishers Weekly, starred review