The Guggenheim Mystery (Paperback)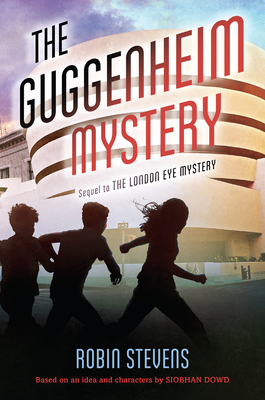 Description
---
The adventure that began in Siobhan Dowd's popular novel The London Eye Mystery at long last continues as three kids investigate a theft at the Guggenheim Museum.

When Ted and his big sister, Kat, take a trip to New York to visit their cousin Salim and their aunt Gloria, they think they're prepared for big-city adventures. But when a famous painting is stolen from the Guggenheim Museum, where Aunt Gloria works, the surprises begin to mount faster than they could have anticipated. With the police looking at Aunt Gloria as the prime suspect, Ted, Kat, and Salim become sleuthing partners, following a trail of clues across NYC to prove her innocence--and to pinpoint the real thief. Ultimately, it comes down to Ted, whose brain works in its own very unique way, to find the key to the mystery.
About the Author
---
Robin Stevens was born in California and grew up in an Oxford college, across the road from the house where Alice in Wonderland lived. She spent her teenage years reading a lot of murder mysteries and hoping that she'd get the chance to do some detecting herself (she didn't). She went to university, where she studied crime fiction, and then worked at a children's publisher. Robin is now a full-time author who lives in London with her husband and her pet bearded dragon, Watson. Learn more at robin-stevens.co.uk and follow her on Twitter at @redbreastedbird.