Once Upon a Star: A Poetic Journey Through Space (Hardcover)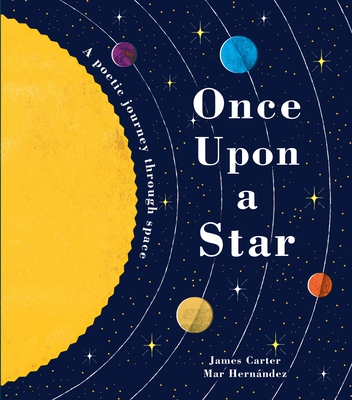 $17.99
Email or call for price.
Description
---
Young space and science enthusiasts will be captivated by this exciting exploration of the Big Bang and the origins of the universe.

Once upon a star, there were no stars to shine, no sun to rise, no day, no night. Until . . . a mighty BOOM!

The Big Bang, the formation of the planets, and the origins of life on Earth are made accessible and fascinating in a poetic, jazzy, free-flowing exploration of space, the solar system, and how we all got here. With its rhythmic, and engaging style, this book is a unique and captivating approach to science and STEM topics that will have kids asking to read it again and again—while learning lessons and concepts that really stick.

Parents and teachers will love it too (and will likely learn something!) as their young ones read about our solar system's origins in an inviting, fresh, yet factual format. With art that calls to mind the era of the space race, the book is everything you need: hip, fun, engaging nonfiction for today's young scientists.

Critics love Once Upon a Star:

"The right 'stuff' for young readers who have wondered about the stars and about their place in space."—Kirkus

"Budding scientists and stargazers will find plenty to enjoy in this lyrical introduction to the sun. . . . An excellent resource for STEM-related activities, science curricula, or children who are simply curious about the world around them."—School Library Journal

"traces the march of evolution with crisp, graphic forms."—Publishers Weekly

"A lively, rhapsodic exploration of the cosmos . . . Each page is a stunning visual feast."—Space.com

"Carter delivers his mini lesson on the Big Bang, cosmic formation, and the coalescence of stardust in gently unreeling, rhyme-sprinkled verse that has the soothing cadence of a bedtime story."—The Bulletin of the Center for Children's Books

"a perfect addition to the library of any budding astronaut or scientist."—ReadBrightly.com

About the Author
---
JAMES CARTER is a poet, guitarist, and songwriter, and the author of numerous children's books where poetry meets science. He lives in England. Find out more about James's writing and music at jamescarterpoet.co.uk and follow him on Twitter at @jamescarterpoet.

MAR HERNANDEZ is an illustrator and teacher based in Valencia, Spain. See more of her work at malotaprojects.com.
Praise For…
---
"The right 'stuff' for young readers who have wondered about the stars and about their place in space."—Kirkus

"Budding scientists and stargazers will find plenty to enjoy in this lyrical introduction to the sun. . . . An excellent resource for STEM-related activities, science curricula, or children who are simply curious about the world around them."—School Library Journal

"traces the march of evolution with crisp, graphic forms."—Publishers Weekly

"A lively, rhapsodic exploration of the cosmos . . . Each page is a stunning visual feast."—Space.com

"Carter delivers his mini lesson on the Big Bang, cosmic formation, and the coalescence of stardust in gently unreeling, rhyme-sprinkled verse that has the soothing cadence of a bedtime story."—The Bulletin of the Center for Children's Books

"a perfect addition to the library of any budding astronaut or scientist."—ReadBrightly.com