Puzzlooies! The Museum of Supernatural History: A Solve-the-Story Puzzle Adventure (Paperback)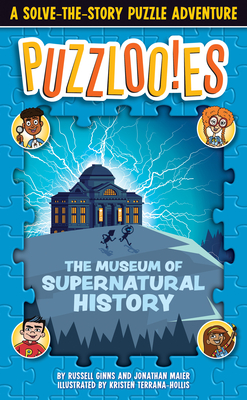 Description
---
Snag a pencil. Sink into a silly story. Solve the puzzles and save the day!

Say goodbye to boring downtime and hello to Puzzlooies!, the latest in portable entertainment. Meant for kids to write in, these illustrated and compact books flip up like a reporter's notebook, making them perfect for fast fun while on-the-go. Each zany adventure is packed with eclectic puzzles to decipher and decode—as well as jokes, riddles, and true trivia galore that'll keep readers laughing 'til the very end . . . if they can reach it!


Enter The Museum of Supernatural History with Jayden and Chad, where mythical monsters and uncanny exhibits are preserved and on display—or so they thought! Jayden and Chad soon discover the monsters are alive, and they need the boys' help to defeat an ancient, evil power before it destroys the world.

Solve the puzzles inside and make your way out of the museum!
About the Author
---
Russell Ginns is a composer, game designer, and the author of dozens of books, including the Samantha Spinner series and Is There a Chance You've Seen My Pants? Jonathan Maier is a writer and producer of kids media, including books, puzzles, and a brainy boatload of software and games.

Together, they are the brains behind Puzzlooies, the new story-puzzle series from Penguin Random House. You can also hear them on their mind-bending, side-splitting podcast Puzzlarious, or on twitter @puzzlarious.