My Big Book of Feelings: 200+ Awesome Activities to Grow Every Kid's Emotional Well-Being (Paperback)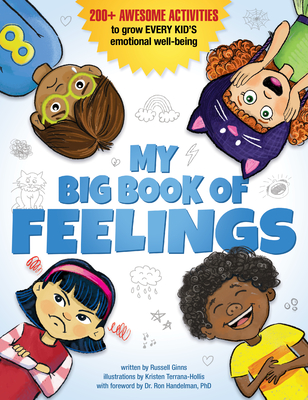 Description
---
GIVE YOUR CHILD THE GIFT OF OWNING THEIR FEELINGS! This activity book helps kids learn to express, identify, and understand their emotions in a healthy way with engaging creative exercises. Perfect for children aged 4-7.

One of the most important skills you can help any child achieve is the ability to express their feelings openly, through playing, drawing, imagining, and making choices. That's what My Big Book of Feelings is all about! This activity book provides a place for open-ended investigation, with fun prompts and pictures that draw your child into creative, imaginative play.

With over 250 pages of gentle, age-appropriate opportunities to draw, doodle, write, and imagine, My Big Book of Feelings is perfect for young children just starting out on a safe and enjoyable journey toward greater emotional intelligence and health.
About the Author
---
Russell Ginns is a writer and game designer who specializes in puzzles, songs, and smart fun. He has worked on projects for a wide variety of organizations, corporations, and publications, including Sesame Workshop, Girl Scouts of America, Nintendo, and Scientific American. Russell lives and writes in Washington, D.C. He is the author of the Samantha Spinner series.

Kristen Terrana-Hollis is a Connecticut-based artist with a New Yorker's soul. Things that make her the happiest are her husband Matt, their daughter Sienna, and their two kitties, Hamlet and Lancelot. Kristen's colorful artwork has appeared in Hooked on Phonics, the Wall Street Journal Classroom Edition, on countless magazine covers, and in art galleries around the U.S.