Alex Rider: Secret Weapon: Seven Untold Adventures from the Life of a Teenaged Spy (Paperback)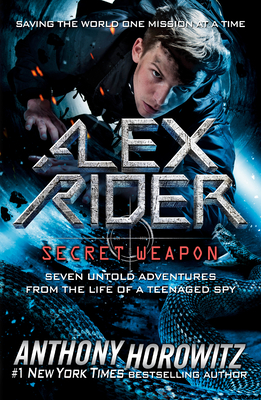 Description
---
A short story collection that expands the universe of teen spy Alex Rider with more thrilling action, espionage, and pulse-pounding heroics. Now in paperback!

Inspired by Horowitz's millions of fans worldwide, Secret Weapon expands the world of Alex Rider with more thrilling action and pulse-pounding heroics. Follow Alex as he infiltrates a terrorist hideout in Afghanistan, fights to prevent an assassination attempt at a ski resort over Christmas, and much more! The #1 New York Times bestselling Alex Rider is back with more exciting, edge-of-your-seats adventures!

A great introduction to readers' favorite super-spy, Secret Weapon contains a combination of new and previously published material.
About the Author
---
Anthony Horowitz is perhaps the busiest writer in England. He has been writing since the age of eight, and professionally since the age of twenty. He writes in a comfortable shed in his garden for up to ten hours per day. In addition to the highly successful Alex Rider ongoing series of books, he has also written episodes of several popular TV crime series, including Poirot, Murder in Mind, Midsomer Murders, and Murder Most Horrid. He has written the television series Foyle's War, which aired in the United States, as well as the libretto of a Broadway musical adapted from Dr. Seuss's book, The 5,000 Fingers of Dr. T. He penned the script for the film The Gathering, which was released in 2003, starring Christina Ricci. Horowitz has also written the Diamond Brothers series.