Skippyjon Jones, Lost in Spice (Hardcover)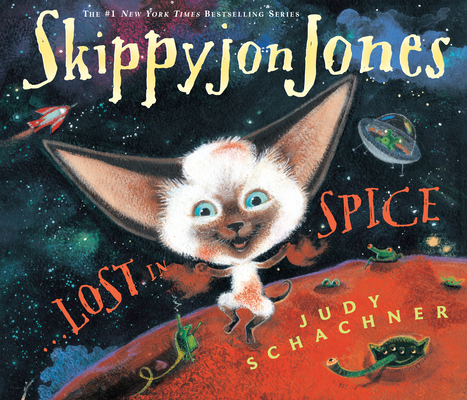 Description
---
The
New York Times
bestselling kitty boy blasts off into another hilarious adventure.
Buckle up, amigos— everyone's favorite kitty boy is about to lift off. You'll want to be there when the brave Skippito gets lost in spice!
That's right, spice. Skippy knows— from his big ears to his toes—that the planet Mars is red because it's covered in spicy red pepper. To prove it, he's off on a space jaunt replete with craters, crazies, and creatures from Mars. His new adventure is packed with witty wordplay, Spanish phrases, and Judy Schachner's trademark hilarity. This rollicking romp is simply out of this world.

Watch a Video
About the Author
---
Best known for her Skippyjon Jones series, Judy Schachner has illustrated many of her own stories, including the much-loved Grannyman and its companion book, Bits & Pieces. She lives in Swarthmore, Pennsylvania.
Praise For…
---
"Skippyjon's ludicrous adventures and energetic personality will keep fans happy that his imagination remains unchecked."--Publisher's Weekly

"Silly poems, puns like "Martian into your closet and get us some frijoles," and action-filled illustrations are sure to keep young readers laughing."--Children's Literature