Stormy Weather (Paperback)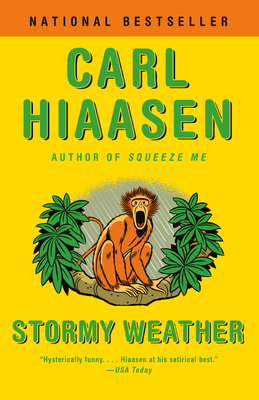 $16.95

In Our Warehouse - Expected arrival in 2-5 days
Description
---
"Hysterically funny. . . . Hiaasen at his satirical best." —USA Today

When a ferocious hurricane rips through southern Florida, con artists and carpetbaggers waste no time in swarming over the disaster area. Among them are insurance fraudsters, amateur occultists, and ex-cons on the loose. And caught in the middle are Max and Bonnie Lamb, honeymooners who abandon their Disney World plans to witness the terrible devastation. But when Max vanishes, Bonnie, aided by a mysterious young man with a tranquilizer gun and a roomful of human skulls, has to follow her only clue: a runaway monkey. The path of this motley crew will be forever changed by a crazed and determined man who has devoted his very strange existence to saving Florida from the kinds of people blown in by the hurricane. The hilarious and scathing muckraking tradition that Carl Hiaasen has so mercilessly made his own continues in Stormy Weather, where there is no calm eye.
About the Author
---
CARL HIAASEN was born and raised in Florida. He is the author of fourteen previous novels, including the best sellers Squeeze Me, Razor Girl, Bad Monkey, Star Island, Nature Girl, Skinny Dip, Sick Puppy, Lucky You, and Stormy Weather, and five best-selling children's books, Hoot, Flush, Scat, Chomp, and Skink. His most recent work of nonfiction is Dance of the Reptiles, a collection of his columns from The Miami Herald. www.carlhiaasen.com   CARL HIAASEN is available for select readings and lectures. To inquire about a possible appearance, please contact Penguin Random House Speakers Bureau at speakers@penguinrandomhouse.com or visit www.prhspeakers.com.
Praise For…
---
"Hysterically funny. . . . Hiaasen at his satirical best." —USA Today

"[A] mordantly hilarious, black-humor thriller." —The Wall Street Journal

"Insane . . . amazing. . . . Wonderful. . . . A great read." —The Washington Post Book World

"Bracing, bawdy, howlingly funny. . . . Everybody gets his just desserts, and you get the delight of reading about it." —Cosmopolitan

"Raucous, scathing but never mean-spirited, Stormy Weather goes a long way toward securing Hiaasen's place as America's premier satirist." —People

"A delight cover to cover. If only you could buy a ticket to Hiaasen's Florida. Animatronics be damned. . . . Hiaasen infuses his novels with justice. . . . What you can't anticipate is how much fun there's to be had getting here to there." —New York Daily News

"Caustic and comic . . . Hiaasen is a funny fellow." —Time

"A satisfying romp. . . . Bitingly effervescent. . . . Few writers in the overcrowded crime fiction arena can match Hiaasen's deft, economical portraits, his ability to click the shutter on a char- acter's most revealing moments." —Newsday

"Another fiercely funny tale in the Hiaasen cannon. Even while provoking gales of laughter, it takes dead-aim at despoilers of the environment and the greed-mongers out to make a buck off devastation and destruction....Hiaasen is himself an accomplished juggler of plot lines. . . . Stormy Weather would be terrific reading during a hurricane, taking your mind off all those oak trees doing the wave outside your window. But don't wait until then." —Orlando Sentinel

"[A] hilarious, satiric thriller . . . by a master of skullduggery in high and low places." —The Buffalo News

"A delightful romp that is by turns hilarious and moving." —Library Journal

"Sinfully madcap. . . . If you're not laughing by page six, you need a complete checkup." —Kirkus Reviews (starred review)

"Madcap. . . . Sprawling." —Publishers Weekly (starred review)