Muppets Meet the Classics: The Phantom of the Opera (Paperback)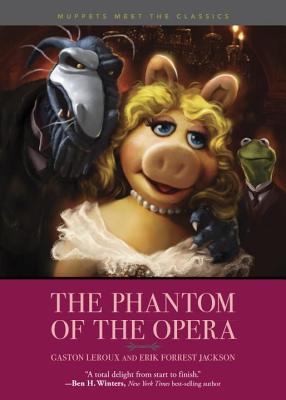 Description
---
"The mash-up is a fun, unexpectedly gripping meld of the Muppets' sensibility with an engrossing tale of love and jealousy." —Entertainment Weekly

"There's no bones about it: young readers will get a taste of the classic in a fun and humerus way (wocka wocka)." —Kirkus

"The fabulous wardrobe. The glorious sets. The hordes of back-up singers. The sheer grandeur and over-the-top theatricality of opera. It's the perfect setting for moi . . . and it's a gangbuster story, too." —Miss Piggy for InStyle

What do you get when you cross the Muppets and the classics? A monster hit! Join Kermit, Miss Piggy, Uncle Deadly, and the other Muppets as they bring this gripping tale of mystery and suspense to life in their own hilarious way.

This classic tale of love, intrigue, and jealousy at the Paris Opera House, which has thrilled readers, musical lovers, and movie goers for more than a century, has now been reimagined with the cast of the Muppets. Readers will gasp, cry, laugh, and laugh again as Kermit (as Raoul), Miss Piggy (as Christine), Uncle Deadly (as the phantom), and the chickens (as the ballet corps) give a whole new meaning to the word "classic." This imaginative tale is sure to win the hearts of all Muppets fans, as well as fans of literary classics.
About the Author
---
This is Erik Forrest Jackson's first book. He spent more than a decade as an executive editor for magazines including Entertainment Weekly and InStyle. As an award-winning dramatist, his work has been produced internationally and includes Like a Billion Likes (winner of the Southwest Playwriting Competition and the Chesley/Bumbalo Foundation Playwriting Award); the Neil Sedaka musical Breaking Up Is Hard to Do; Carrie, a black-comedy adaptation of Stephen King's novel; the Off Broadway comic thriller Tell-Tale (Best Play GLADD nomination); and Cheers Live on Stage, a theatrical version of the beloved TV series. His poems were featured in the Showtime film The Escape, starring Patrick Dempsey, and his articles have appeared in Glamour, W, Real Simple, Allure, and Town & Country. He grew up in Texas, studied acting and poetry at the University of Southern California, and now lives in Harlem. 

Gaston Leroux (1868-1927) was born in Paris, France. After leaving school, Leroux worked as a clerk in a law office and, in his free time, began writing essays and short stories. By 1890 he had become a full-time journalist, sailing the world as a correspondent. He began writing novels in the early 1900s and was inspired by Alexandre Dumas, Victor Hugo, Jules Verne, and Edgar Allan Poe. In 1911, he wrote The Phantom of the Opera.