Lucifer's Hammer: A Novel (Mass Market)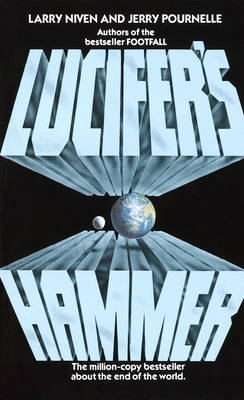 $8.99
Email or call for price.
Description
---
"The first satisfying end-of-the-world novel in years . . . an ultimate one . . . massively entertaining."—Cleveland Plain-Dealer

The gigantic comet had slammed into Earth, forging earthquakes a thousand times too powerful to measure on the Richter scale, tidal waves thousands of feet high. Cities were turned into oceans; oceans turned into steam. It was the beginning of a new Ice Age and the end of civilization.

But for the terrified men and women chance had saved, it was also the dawn of a new struggle for survival—a struggle more dangerous and challenging than any they had ever known. . . .

"Take your earthquakes, waterlogged condominiums, swarms of bugs, colliding airplanes and flaming what-nots, wrap them up and they wouldn't match one page of Lucifer's Hammer for sweaty-palmed suspense."—Chicago Daily News
About the Author
---
Larry Niven was born in 1938 in Los Angeles, California. In 1956, he entered the California Institute of Technology, only to flunk out a year and a half later after discovering a bookstore jammed with used science-fiction magazines. He graduated with a B.A. in mathematics (minor in psychology) from Washburn University, Kansas, in 1962, and completed one year of graduate work before he dropped out to write. His first published story, "The Coldest Place," appeared in the December 1964 issue of Worlds of If. He won the Hugo Award for Best Short Story in 1966 for "Neutron Star" and in 1974 for "The Hole Man." The 1975 Hugo Award for Best Novelette was given to The Borderland of Sol. His novel Ringworld won the 1970 Hugo Award for Best Novel, the 1970 Nebula Award for Best Novel, and the 1972 Ditmar, an Australian award for Best International Science Fiction.
Praise For…
---
"The first satisfying end-of-the-world novel in years . . . an ultimate one . . . massively entertaining."—Cleveland Plain-Dealer

"Take your earthquakes, waterlogged condominiums, swarms of bugs, colliding airplanes and flaming what-nots, wrap them up and they wouldn't match one page of Lucifer's Hammer for sweaty-palmed suspense."—Chicago Daily News