Jacob's Rescue (Paperback)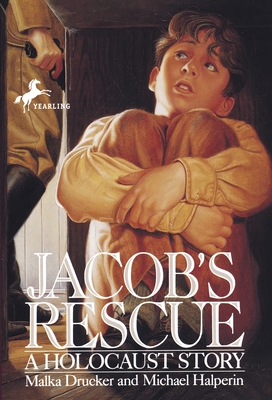 $6.99
In Our Warehouse - Expected arrival in 2-5 days
Description
---
Based on a true story, and from the co-author of Rescuers, the courageous and vividly told story of one boy and the courageous family who risks everything to save him.

Once Jacob Gutgeld lived with his family in a beautiful house in Warsaw, Poland. He went to school and played hide-and-seek in the woods with his friends. But everything changed the day the Nazi soldiers invaded in 1939. Suddenly it wasn't safe to be Jewish anymore.
About the Author
---
Malka Drucker is the author of 21 books, including the award-winning works Frida Kahlo, Rescuers: Portraits of Moral Courage in the Holocaust, Grandma's Latkes, and White Fire: A Portrait of Women Spiritual Leaders in America. White Fire won the 2005 PEN Southwest Book Award for Nonfiction. Drucker's highly acclaimed Jewish Holiday series won the Southern California Council on Literature for Children Prize series. Another of her biographies, Eliezer Ben Yehuda: Father of Modern Hebrew, won the ADL (Anti-Defamation League) Janusz Korczak Literary Competition and Frida Kahlo was chosen as an American Bookseller Pick of the Lists. She belongs to many literary organizations, including The Society of Children's Book Writers and Illustrators, The Southern California Council on Literature for Young People, the Association of Jewish Librarians, The Authors Guild, and PEN.  Ordained in 1998 from the Academy for Jewish Religion, a trans-denominational seminary, Malka Drucker is also the founding rabbi of HaMakom: The Place for Passionate and Progressive Judaism, in Santa Fe, New Mexico.

Michael Halperin is an author and writer of many television episodes, plays, and books. He received a BA in communications from the USC Annenberg School of Communications and his PhD in film studies. Halperin was a story editor for Universal Television and an executive story consultant at 20th Century Fox. He is the coauthor of the bestselling and award-winning children's novel Jacob's Rescue: A Holocaust Story. He is also known for his book Black Wheels, which was chosen by the National Education Association as one of the best books of 2005–2013.
Praise For…
---
"Filled with small but telling moments." --Publishers Weekly

"Characters are well developed and multidimensional, and the story is a poignant one. While it might be difficult for today's readers to understand the kind of heroism and goodness demonstrated by the Roslan family, who risked their lives every day to protect children who were not even related to them, they will become immersed in another time and place." --School Library Journal