El Capitán Calzoncillos y la feroz batalla contra el Niño Mocobionico 2ª parte: la venganza de los ridículos mocorobots (Captain Underpants #7) (Paperback)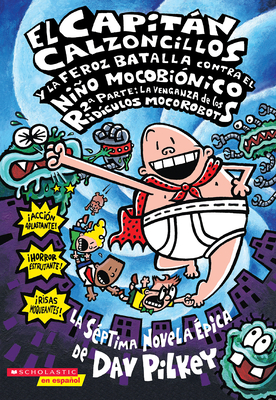 $5.99
Email or call for price.
Description
---
New from Dav Pilkey--a Captain Underpants story that's so full of action, adventure, laffs, romance (just kidding!), and Flip-O-Rama, that we couldn't fit it into just one book! We're SERIOUS!!!¡Creían que todos estaban a salvo, pero nada de eso! Nuestros héroes vencieron al Niño Mocobiónico, pero se olvidaron de los Ridículos Mocorobots. Acompaña a Jorge, Berto el Sr. Carrasquilla, Gustavo Lumbreras y Chuli el hámster biónico en una aventura que los llevará a lo más recóndito del espacio sideral, ¡al mundo inexplorado del día antes de ayer!
About the Author
---
When Dav Pilkey was a kid, he was diagnosed with ADHD and dyslexia. Dav was so disruptive in class that his teachers made him sit out in the hallway every day. Luckily, Dav loved to draw and make up stories. He spent his time in the hallway creating his own original comic books -- the very first adventures of Dog Man and Captain Underpants.
In the second grade, Dav's teacher ripped up his comics and told him he couldn't spend the rest of his life making silly books.
Fortunately, Dav was not a very good listener.