Zen Ties (A Stillwater and Friends Book) (Hardcover)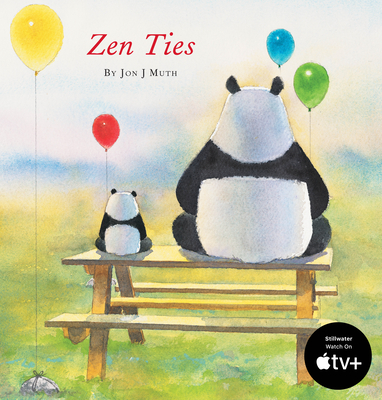 Description
---
Stillwater, the beloved Zen panda, now in his own Apple TV+ original series!
Stillwater the Panda returns in a delightful companion to his Caldecott Honor Book, Zen Shorts.
Summer has arrived -- and so has Koo, Stillwater's haiku-speaking young nephew. And when Stillwater encourages Koo, and his friends Addy, Michael, and Karl to help a grouchy old neighbor in need, their efforts are rewarded in unexpected ways.
Zen Ties
is a disarming story of compassion and friendship that reaffirms the importance of our ties to one another.
About the Author
---
Jon J Muth is beloved all over the world for his seven books featuring Stillwater the Panda, whose love and balanced approach to life always serve to make the world a better place for his young friends. Muth's many enchanting picture books include his Caldecott Honor Book Zen Shorts, Addy's Cup of Sugar, Stone Soup, and The Three Questions, which the New York Times Book Review called "quietly life-changing." His books have been translated into more than 23 languages and are cherished by readers of all ages. Muth draws inspiration from his life-long interest in Asian Studies, including tai chi chuan, sumi ink drawing, and chado, "the way of tea." Muth is also renowned in the world of graphic novels. He won an Eisner Award for his paintings in the graphic novel, The Mystery Play by Grant Morrison. He's partnered with Neil Gaiman on The Sandman: The Wake, Walter and Louise Simonson, and Kent Williams on Havoc & Wolverine: Meltdown, J. M. DeMatteis on Moonshadow and Silver Surfer, and with Stanislaw Lem on The Seventh Voyage which was nominated for an Eisner Award for Best Adaptation in Another Medium. He lives in New York State with his wife and their four children.
Praise For…
---
* "Muth's brush is as sure as ever; Stillwater's big, blunt paws and hunched-over listening posture are irresistible, and Miss Whitaker's delicate face and snow-white hair beautifully counterpoint the vignettes of youthful play." -- Publisher's Weekly, starred review"The pleasure, as always, is with Muth's irresistible storytelling, both visual and textual...The story's theme of intergenerational kindness is tender, and the text is infused with bits of haiku, wordplay and small lessons that charmingly avoid didacticism. A welcome return." -- Kirkus Reviews"A rich and wonderful offering." -- School Library Journal

* "Muth's brush is as sure as ever; Stillwater's big, blunt paws and hunched-over listening posture are irresistible, and Miss Whitaker's delicate face and snow-white hair beautifully counterpoint the vignettes of youthful play." -- Publisher's Weekly, starred review"The pleasure, as always, is with Muth's irresistible storytelling, both visual and textual...The story's theme of intergenerational kindness is tender, and the text is infused with bits of haiku, wordplay and small lessons that charmingly avoid didacticism. A welcome return." -- Kirkus Reviews"A rich and wonderful offering." -- School Library Journal