El Capitán Calzoncillos y la furia de la Supermujer Macroelástica (Captain Underpants #5): (Spanish language edition of Captain Underpants and the Wrath of the Wicked Wedgie Women) (Paperback)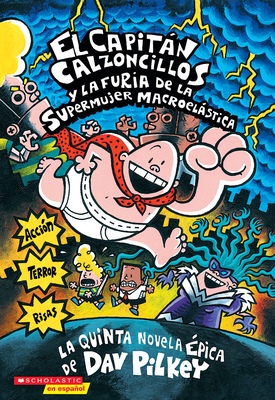 $7.99

In Our Warehouse - Expected arrival in 2-5 days
Description
---
HE'S BAAAAAACK!!!!The amazing Captain Underpants faces the wickedest, wildest, wedgiest villain yet in this all-new adventure by best-selling author Dav Pilkey.Jorge y Berto sí la han hecho esta vez...¡Han creado un MONSTRUO! Es la criatura más rápida, fuerte y diabólica del mundo, la Supermujer Macroelástica. Con la ayuda de sus horripilantes robots y su garra robótica, la Supermujer Macroelástica se adueña del mundo y le da una paliza a cualquiera que se interponga en su camino, incluyendo al Capitán Calzoncillos. ¿Podrá la Mujer Macroelástica destruir a nuestros héroes?
About the Author
---
When Dav Pilkey was a kid, he was diagnosed with ADHD and dyslexia. Dav was so disruptive in class that his teachers made him sit out in the hallway every day. Luckily, Dav loved to draw and make up stories. He spent his time in the hallway creating his own original comic books -- the very first adventures of Dog Man and Captain Underpants.
In the second grade, Dav's teacher ripped up his comics and told him he couldn't spend the rest of his life making silly books.
Fortunately, Dav was not a very good listener.