El Capitán Calzoncillos y el perverso plan del Profesor Pipicaca (Captain Underpants #4): (Spanish language edition of Captain Underpants and the Perilous Plot of Professor Poopypants) (Paperback)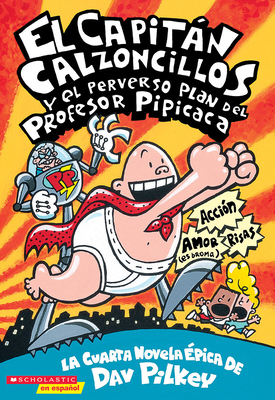 $5.99

In Our Warehouse - Expected arrival in 2-5 days
Description
---
The best-selling Captain Underpants series may be in jeopardy, as the perilous plot of Professor Pippy P. Poopypants possibly puts an end to the protagonists -- permanently!Jorge y Berto no son malos chicos. Lo que pasa es que les gusta animar las cosas de vez en cuando. Así, sin proponérselo, están a punto de hacer que el profesor Pipicaca, un científico enloquecido y sin escrúpulos que se encuentra a bordo de un robot gigantesco, se apodere del planeta entero. ¿Quién desbaratará los perversos planes de Pipicaca? ¡Un nuevo trabajo para el Capitán Calzoncillos!
About the Author
---
When Dav Pilkey was a kid, he was diagnosed with ADHD and dyslexia. Dav was so disruptive in class that his teachers made him sit out in the hallway every day. Luckily, Dav loved to draw and make up stories. He spent his time in the hallway creating his own original comic books -- the very first adventures of Dog Man and Captain Underpants.
In the second grade, Dav's teacher ripped up his comics and told him he couldn't spend the rest of his life making silly books.
Fortunately, Dav was not a very good listener.