My America: My Brother's Keeper: Virginia's Civil War Diary, Book One (Paperback)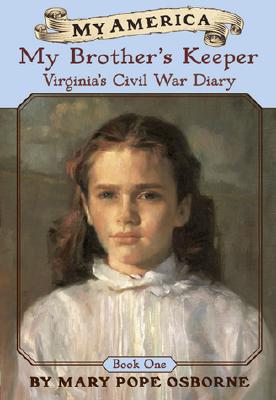 $4.99
Email or call for price.
Description
---
Mary Pope Osborne's book, part of the relaunch of the My America series, tells the story of Ginny , a young girl who keeps a journal during the Civil War's Battle of Gettysburg.

Virginia Dickens has promised to keep a journal for her older brother Jed. And Ginny finds plenty to write about: Pennsylvania Volunteers arrive in the town square reporting a big battle in Virginia and calling for more men to join their ranks. Rumors fly that the Rebs are headed to Gettysburg, and the Battle of Gettysburg ensues. Suddenly, Ginny's quiet town is filled with the injured.

Ginny's brother Jed has joined the Union army, and they find him wounded in a makeshift hospital. With Ginny's nursing, he recovers, and Ginny is is able to witness the President's Gettysburg Address.