The Magical Worlds of Harry Potter (revised edition) (Paperback)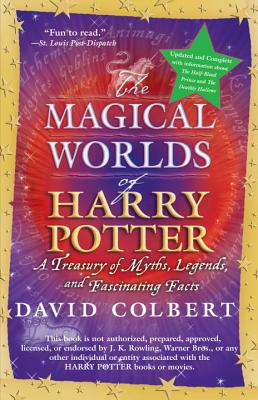 Description
---
The indispensable source guide to J.K. Rowling's Harry Potter novels—the perfect gift for Harry Potter fans!

What was the model for The Order of the Phoenix?
Where do those names come from?
What is the real-life legend behind Voldemort's Dark Mark?
Could Snape's potions actually work?
 
J.K. Rowling's young heroic wizard, Harry Potter, lives in a world populated by dragons, centaurs, trolls, giants—and a three-headed dog named Fluffy—among other creatures from ancient myths and legends. Discover the astonishing origins of supernatural beasts, clues to hidden meanings in names, and amazing facts about real-life wizards and magic spells. From Alchemists to Unicorns, Basilisks to Veela, this fascinating compendium brings another dimension to Harry's adventures—from The Sorcerer's Stone to The Deathly Hallows.



This book was not authorized, prepared, approved, licensed or endorsed by J.K. Rowling, Warner Bros., or any other individual or entity associated with the HARRY POTTER books or movie.
About the Author
---
Formerly a head writer for Who Wants to be a Millionaire, David Colbert, author of The Magical Worlds of Harry Potter and The Magical Worlds of The Lord of the Rings, is best known as an author of the acclaimed Eyewitness history series. A graduate of Brown University, he studied anthropology and mythology and has spent much of his life in libraries.
Praise For…
---
Praise for The Magical Worlds of Harry Potter

"Digs deep into different cultures and mythologies to piece together the origins of Rowling's characters. Learn about griffins, goblins, Latin, and why Harry is a universal hero."—The Baltimore Sun

"Have you ever wondered where J.K. Rowling gets her ideas for fantastic beasts and magical critters? You can learn about them in The Magical Worlds of Harry Potter."—Detroit Free Press

"A glorious tribute to Rowling's work."—The Times (London)
 
"An affectionately written companion book intended to help visitors to Rowling's world navigate."—January Magazine

"A feast for future game-show contestants…You could use it as reference to set up a round of Jeopardy!"—The Orlando Sentinel
 
"A guide to the history, literature and mythology Rowling sprinkles throughout her four Harry Potter books. Grown-ups might like [it] too, because it painlessly exposes youngsters to Shakespeare, Chaucer, Ovid, Flaubert and more."—St. Louis Post-Dispatch
 
"Potter fanatics…can revel in details and hidden mysteries of the series."—The Columbus Dispatch