Pretzel (Paperback)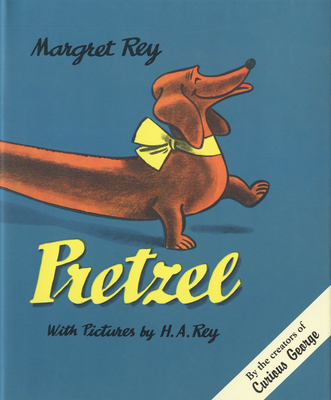 $7.99
In Our Warehouse - Expected arrival in 2-5 days
Description
---
One morning in May five little dachshunds are born. They grow up the way puppies do, and at first they all look exactly alike. But after nine weeks Pretzel starts growing - and growing - and growing! Fully grown, Pretzel is the longest dachshund in all the world. He easily wins a blue ribbon at the dog show and is admired by everyone - everyone but Greta, the little dachshund across the street, who doesn't care for long dogs. Pretzel is unable to win Greta's heart until the day she needs rescuing, when the only dog who can save her must be very, very long. This classic story of puppy love will win the hearts of both old and new Pretzel fans. How can you go wrong with a story that begins and ends with puppies?
About the Author
---
Hans and Margret Rey created many books during their lives together, including Curious George, one of the most treasured classics of all time, as well as other favorites like Spotty and Pretzel. But it was their rambunctious little monkey who became an instantly recognizable icon. After the Reys escaped Paris by bicycle in 1940 carrying the manuscript for the original Curious George, the book was published in America in 1941. More than 200 Curious George titles followed, with 75 million books sold worldwide. Curious George has been successfully adapted into a major motion picture and an Emmy-winning television show on PBS.
 
The Reys were born in Hamburg, Germany. Hans Augusto Rey (1898-1977) met his wife-to-be, Margret (1906-1996), at a party in her father's home in Germany; when he first caught a glimpse of her, she was sliding down the banister. In their twenties and thirties they lived in Paris and in Rio de Janeiro, where Hans sold bathtubs in villages along the Amazon River. Eventually Cambridge, Massachusetts, became the Reys' home and community. Throughout their lives the Reys created many lively books together, including SPOTTY, PRETZEL, and lift-the-flap books such as HOW DO YOU GET THERE? The manuscript of the first Curious George books was one of the few items the Reys carried with them on their bicycles when they escaped from Paris in 1940. Eventually, they made their way to the United States, and CURIOUS GEORGE was published in 1941. Their incorrigible little monkey has become an American icon, selling millions of books and capturing the hearts of readers everywhere. CURIOUS GEORGE has been published in many languages, including French, German, Japanese, Afrikaans, and Norwegian. Additional Curious George books followed, as well as such other favorites as CECILY G. AND THE NINE MONKEYS and FIND THE CONSTELLATIONS. Visit www.curiousgeorge.com.