Unusual Chickens for the Exceptional Poultry Farmer (Paperback)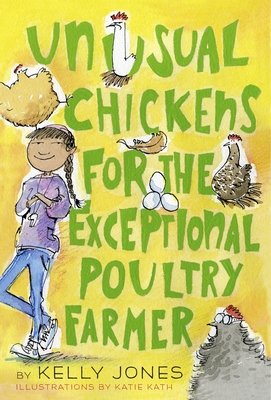 $7.99
Usually Ships in 1-5 Days
Staff Reviews
---
Fans of Katherine Applegate (The One and Only Ivan) and Holly Goldberg Gloan (Appleblossom the Possum) will love this story of 12 year-old Sophie Brown, who moves from Los Angeles to a farm in the country that they inherited from a great-uncle.  Life gest interesting when a cranky chicken appears and Sophis discovers that the chicken has supernatural powers!  When more of her great-uncle's chickens join the first, Sophie learns how to take care of her flock of unusual chickens.  If you love this book (and you will), there is a sequel (Are You Ready to Hatch an Unusual Chicken?) that is just as good as the first!
— Diane Savage
Description
---
Fans of Katherine Applegate and Erin Entrada Kelly will love this quirky story of a determined girl, and some extraordinary chickens.
 
Twelve-year-old Sophie Brown feels like a fish out of water when she and her parents move from Los Angeles to the farm they've inherited from a great-uncle. But farm life gets more interesting when a cranky chicken appears and Sophie discovers the hen can move objects with the power of her little chicken brain: jam jars, the latch to her henhouse, the entire henhouse....
 
And then more of her great-uncle's unusual chickens come home to roost. Determined, resourceful Sophie learns to care for her flock, earning money for chicken feed, collecting eggs. But when a respected local farmer tries to steal them, Sophie must find a way to keep them (and their superpowers) safe.
 
Told in letters to Sophie's abuela, quizzes, a chicken-care correspondence course, to-do lists, and more, Unusual Chickens is a quirky, clucky classic in the making.
About the Author
---
KELLY JONES has worked as a librarian and a bookseller, and now turns her talents to fiction. Her first book, Unusual Chickens for the Exceptional Poultry Farmer, was an Indies Introduce Pick, an ALA Notable Book, an SLJ Best Book, a Kirkus Reviews Best Book. You can find her at her website: curiosityjones.net, or on Twitter: @curiosityjones.
 
KATIE KATH earned an MFA from the Savannah College of Art and Design and works as a freelance illustrator. You can learn more about her work at ktkath.com.
Praise For…
---
"A delightful protagonist, interesting fowl of various breeds and a cast of appealing second-string characters make this a top pick for young readers, poultry fanciers or not." 
—Kirkus Reviews, starred review 

"Readers will cheer for Sophie and clamor for more of those amazing chickens. Exceptional, indeed."
—School Library Journal, starred review 

"Someone has finally written a real honest-to-goodness novel with chickens!  This news will excite people who like novels, people who like chickens...and chickens.  It is an unusual book!"
--Daniel Pinkwater, author of The Hoboken Chicken Emergency, and pioneer of chicken-lit.
 
"The combination of real-life emotion and otherworldly farming makes for a comedic story with the right amount of pathos."--Booklist